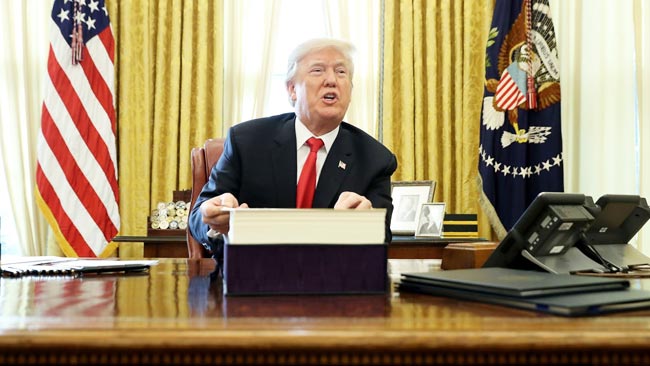 Kim Jong Un's annual New Year's address involved heaps of fake applause and grandstanding with a chilling piece of (possibly true) information — North Korea's nuclear arsenal was ready, active, and had the entire United States in its sites.
"The entire mainland of the U.S. is within the range of our nuclear weapons and the nuclear button is always on the desk of my office," the North Korean leader told his people. "They should accurately be aware that this is not a threat but a reality."
Now, in an act diplomacy fitting for the current White House, President Donald Trump has tweeted out his response, letting Kim Jong Un know that he too has a nuclear button on his desk, and it's way bigger and better than North Korea's. So there.
"North Korean Leader Kim Jong Un just stated that the "Nuclear Button is on his desk at all times." Will someone from his depleted and food starved regime please inform him that I too have a Nuclear Button, but it is a much bigger & more powerful one than his, and my Button works!"
North Korea's ballistic missile tests have ramped up over the last year, which has left U.S. allies such as Japan and South Korea under extreme duress as the reportedly unhinged and brutal leader strokes his pile of intercontinental weapons. In his New Year's speech, Jong Un stated that North Korea was "peaceful," and would use the weapons "only if our security is threatened."
In the same speech, Kim called for the North Korean people to "accelerate the mass production of nuclear warheads."
Back in November, North Korea "sentenced Trump to death" for insulting Kim, which was a result of his "Rocket Man" comments. If calling their Supreme Leader "Rocket Man" constitutes a death sentence, who knows what they'll consider a threat to their security which would set off a nuclear war.