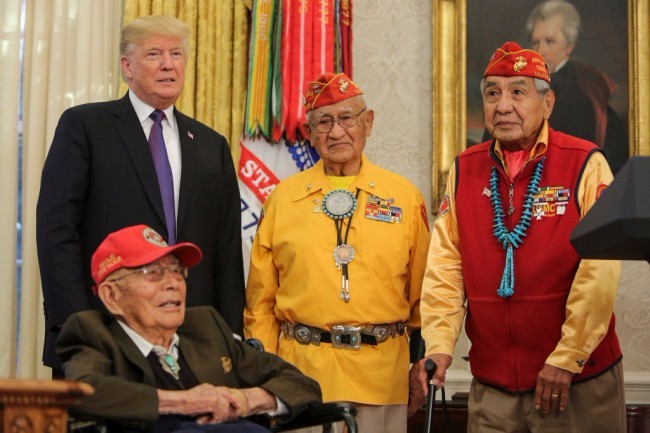 Donald Trump couldn't make it through one meet and greet honoring Native American Code Talkers from World War II without both referencing Chief of Staff John Kelly as "The Chief," or mentioning "Pocahontas," his favorite bad joke about Elizabeth Warren.
Now, John Norwood, the general secretary of the Alliance of Colonial Era Tribes, told NBC News that Trump's remark "smacks of racism."
"The reference is using a historic American-Indian figure as a derogatory insult and that's an insult to all American-Indians."
Additionally, president of Navajo Nation, Russell Begaye, said, "in this day and age, all tribal nations still battle insensitive references to our people," in a statement released by ABC. "The prejudice that Native American people face is an unfortunate historical legacy," he continued.
He then added this caveat: "The Navajo Nation does not want to engage in this dialogue between Sen. Warren and President Trump." Press Secretary Sarah Huckabee Sanders said the "Pocahontas" remark "wasn't a racial slur."
Trump's latest disregard for decency took place in front of a portrait of President Andrew Jackson, who signed the Indian Removal Act which led to the death of thousands of Native Americans on the Trail of Tears.
Veep's final season is filming now, Donald Trump's administration has three to seven years remaining.
(Via The Hill)