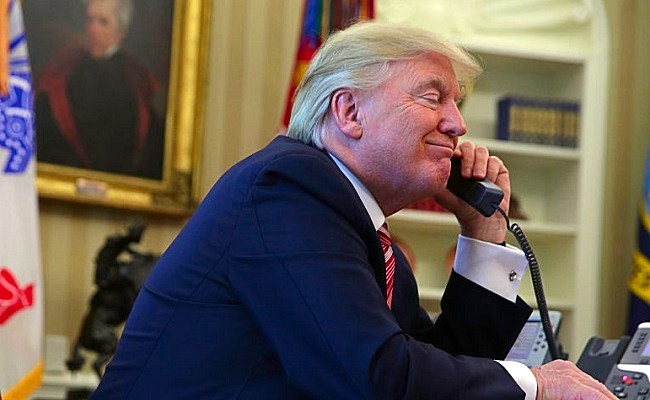 On Thursday, former The Howard Stern Show regular and Stuttering John podcast host John Melendez claimed he had prank called President Donald Trump aboard Air Force One. News of the alleged prank call, which Melendez released in his latest podcast episode (along with a full transcript), went viral on Friday — especially after the host began tweeting about U.S. Secret Service agents trying to contact him at his home following the act. Since then, the comedian has spoken with several outlets about the experience, saying his prank reveals "how bad their screening is."
Speaking with CNN on Friday, Melendez said he was "shocked" they were able to get through. "I mean we did this as a goof, I'm a comedian… I just could not believe that it took us an hour and a half to get Jared Kushner and Donald Trump on the phone from Air Force One." The comic explained the situation further with The Hollywood Reporter on Sunday, insisting his show had done Trump a favor. "That's how bad their screening is," he declared. "If they just asked me what state, I would have been stumped":
"I have hung out with Donald Trump on so many occasions that I know his voice. If you listen to the phone call, I don't think there's a doubt in anybody's mind that that's Donald Trump. I think I did Donald Trump a service by exposing how inadequate his screening staff is. And if Jared Kushner was not married to his daughter, he'd be gone."
Melendez told THR they initially called the White House sans prank, as he apparently "had a relationship with Trump" in the past. When that didn't work, his produce suggested he impersonate Sen. Bob Menendez (D-New Jersey) solely based on their last names' similar spellings. This time, Melendez adopted the "worst English accent known to man" to pose as the senator's office while calling back, and the White House apparently bought it. The alleged prank call has yet to be confirmed, and the president's office has not commented publicly about the matter. However, that didn't stop the senator's office from issuing a statement.
(Via CNN and The Hollywood Reporter)