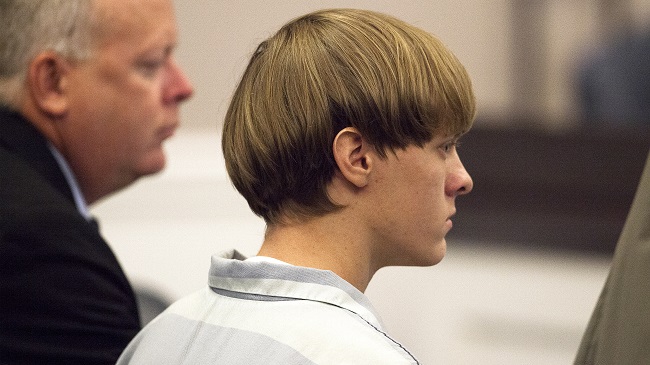 Days after U.S. District Judge Richard Mark Gergel determined accused Charleston church shooter Dylann Roof was competent to stand trial for murder, the 22-year-old accused filed a motion to represent himself in court. Despite the same judge's advice to the contrary during a court appearance on Monday, Roof's request has been granted — meaning the man who allegedly killed nine people at a historically black church in Charleston, South Carolina will forgo his right to legal counsel.
According to The Daily Beast, local reporters in attendance at Roof's Monday morning hearing tweeted out Roof's conversation with the judge, as well as Gergel's approval of the motion. WIS 10 news reporter Ashleigh Holland detailed much of the exchange between the two, noting Gergel reminded Roof of his "constitutional right to be represented" and thought it "wise" for the accused to take advantage of it.
Despite the judge's insistence that Roof's representing himself was "strategically unwise," however, the defendant stuck to his motion:
Jury selection for the trial began promptly at 9 a.m. local time, during which Gergel began questioning potential jurors. As CNN notes, Roof faces upwards of 33 federal charges — including nine counts of Hate Crime Act violations that resulted in death, three violations of the Hate Crime Act that were attempts to kill, and many others. If convicted, Roof could face the death penalty.
Roof's state trial, which includes nine counts of murder and other charges, is scheduled to begin in January.
(Via The Daily Beast and CNN)