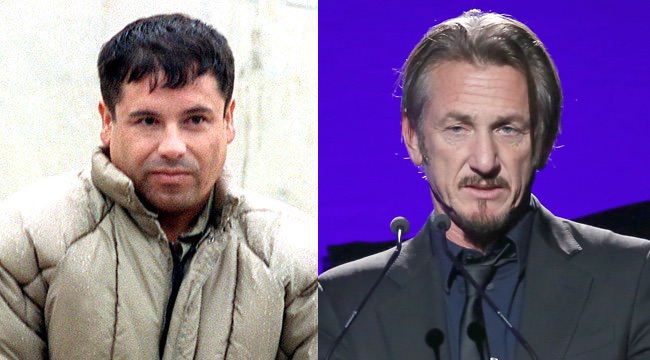 During Sean Penn's rambling profile of El Chapo, the Oscar-winning actor noted several times how he felt like a "curiousity" to the drug lord. Penn appeared to believe El Chapo was enamored of his celebrity status, and given the kingpin's desire to be immortalized in a biopic, this made sense. The profile also detailed how Penn's partner in journalistic crime, Kate del Castillo, once tweeted a suggestion that El Chapo could use his powers for good. Del Castillo felt the ruthless drug lord could become a real-life Robin Hood. El Chapo was reportedly flattered at how the popular Telenovela actress (she's famous for portraying crime bosses) would take an interest in him.
El Chapo sent her flowers, and they forged a friendship, but they never met until she and Penn flew into the Sinaloa mountains for Rolling Stone. All along, Penn addressed del Castillo as the interview broker, but as it turns out, El Chapo had no bloody idea who Penn was. NBC News uncovered a series of texts where del Castillo refers to El Chapo as "papa." Oh boy:

Guzmán is referred to as "papa" in the purported messages sent to Guzmán's attorney's cellphone, and Guzmán tells the Latin film and television star that he is in Sinaloa and is looking forward to meeting her. He also says that he doesn't drink but would be willing to imbibe if she brings the wine and tequila.

Then, in texts between Guzmán and his attorney, he explains to the cartel kingpin that del Castillo wants Penn to come to their meeting. But Guzmán is not sure who he is.
Guzman said he'd look Penn up online, but he grew distracted with the need to buy del Castillo a pink cellphone ("suitable for a woman"). In the profile, Penn notes how El Chapo escorted the actress to her sleeping quarters, and Penn worries what will happen (but nothing does). Meanwhile, authorities tracked Penn and del Castillo and later flushed El Chapo and his men out of the mountain hideout. At that point, authorities nearly nabbed the kingpin, but he used a child "as a human shield" to ward off helicopter fire.
According to an anonymous official, El Chapo traveled to Los Mochis last week with del Castillo on his mind: "This was an almost obsessive interest that turned into another incentive to go down to the city, where he wanted to meet with her." His romantic dreams were shattered when Mexican marines launched an explosive raid on the house where El Chapo took shelter.
Penn has since expressed a no-regrets stance by saying, "I've got nothin' to hide." There's no word on whether Penn knows El Chapo wasn't interested in him in the first place.
(Via NBC News)
Now Watch: The Full Story Of El Chapo's Escape And Recapture