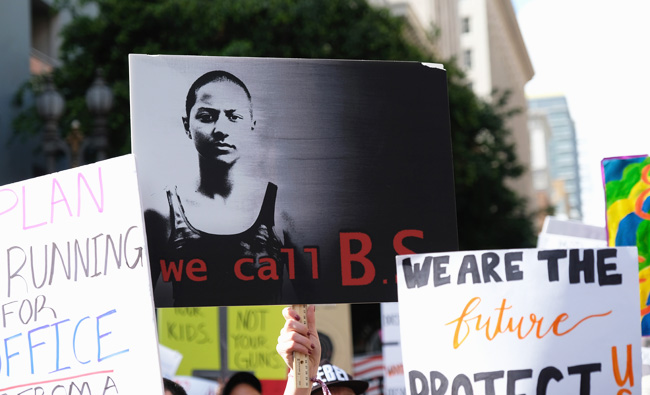 Stoneman Douglas High School senior Emma Gonzalez found herself the unlikely face of a movement in the wake of the mass shooting tragedy that cost the lives of 17 of her classmates and teachers in February. And while the 18-year-old has become an inspiration to millions of her peers across the country after being plucked from complete obscurity in just over a month, sadly, her notoriety has left her vulnerable to attacks from the Second Amendment crowd.
Over the weekend, as Gonzalez led the charge in Washington D.C. at the March For Our Lives rally, alt-righters began circulating the below doctored photo on social media, which depicts the teen tearing apart the constitution. In fact, the image originated from a Teen Vogue photo shoot and cover story in which Gonzalez is actually seen tearing apart a gun range target, as pointed out by the publication's Chief Content Officer Phillip Picardi.
The hoax unfortunately only picked up steam after being tweeted out in gif-form by conservative actor Adam Baldwin, who captioned #Vorwärts! — which is German for "forward" and as the Washington Post points out, is an apparent reference to the Hitler Youth march song that includes the word. Baldwin has still not deleted his post at the time of this writing even as the image is being widely debunked as a fake online.
It just goes to show the lengths certain groups and individuals will go to in attempting to discredit these kids, but more importantly, also proves how much power they hold in their young hands.
(Via Washington Post)