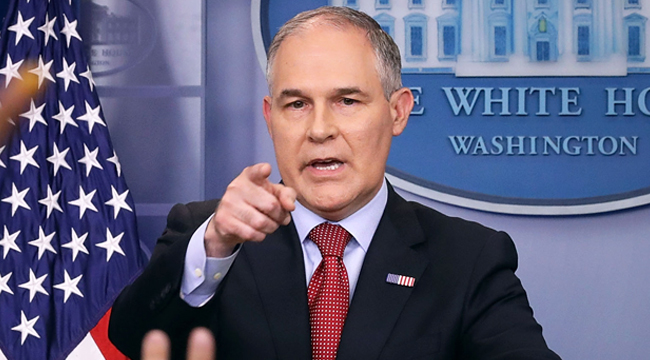 EPA chief Scott Pruitt is currently embroiled in a number of controversies that lead many to believe his continued presence in the Trump administration may be in jeopardy. This would refer to his cheap rental of a condo from an energy-lobbyist landlord, his use of a loophole to give out substantial raises to aides, and his reported love of private jets. The New York Times now adds to Pruitt's list of woes by reporting that several people who questioned these matters have been demoted or otherwise had their jobs changed.
According to the report, at least five EPA officials took issue with Pruitt's management style and expenditures. The latter category would include expensive office furniture and an enormous (20-person) security detail, in addition to a bulletproof vehicle, all for the head of the EPA. The Times summarizes what apparently happened to these officials:
Two of the career officials, Reginald E. Allen and Eric Weese, were moved to jobs where they had less say in spending decisions and less interaction with Mr. Pruitt, the people said. A third career official, John E. Reeder, joined American University as a temporary "executive in residence" after being told by the E.P.A. to find a new job. And John C. Martin, who served on the security detail, was also removed from the team and had his gun and badge taken away after raising concerns about how Mr. Pruitt's security was being handled.
The Times also discusses a sixth official, Ryan Jackson, who asked the same type of questions about Pruitt's practices, and he hasn't been removed but may soon resign. Still, it's difficult to guess whether even this newest scandal will have an effect on Pruitt's gig. On Thursday, Trump was quizzed on Air Force One about the swirling Pruitt reports, and he expressed confidence in his appointee. This is to be expected, given that Pruitt and Trump are both big deregulation fans, but one truly never knows who the president will fire next.
(Via New York Times & USA Today)