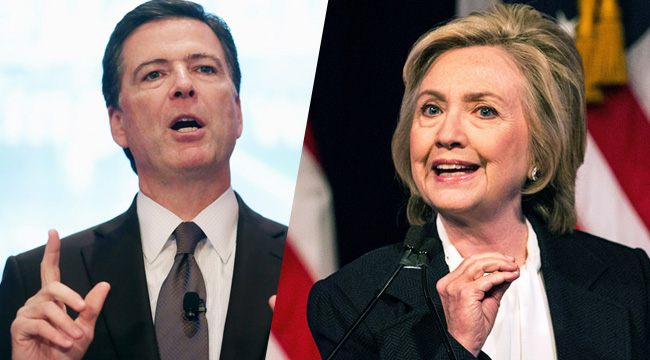 The controversy over Hillary Clinton's use of a private email server while secretary of state may soon be over. This investigation culminated with a three-and-a-half-hour FBI interview this weekend after a messy situation involving Attorney General Loretta Lynch meeting with Bill Clinton on an airplane. Lynch distanced herself from the storm by revealing that she would defer to the FBI's eventual desired outcome, but everyone — even WikiLeaks founder Julian Assange — admitted that an indictment was unlikely. WikiLeaks did release 1,200 emails, which featured a trove of cut-and-pasted media articles, letters sent to Clinton, and other flotsam.
Although none of the released emails (which came from the State Department after a Freedom of Information Act request) set off individual alarms, the matter has affected Clinton's perceived trustworthiness during the election. Certainly, there are matters of security to consider here, and the FBI agrees. After a thorough investigation, the bureau found no reason to indict Clinton, but they do brand her "extremely careless" in handling "highly classified information." Comey's full statement contains the following relevant portions:
Although we did not find clear evidence that Secretary Clinton or her colleagues intended to violate laws governing the handling of classified information, there is evidence that they were extremely careless in their handling of very sensitive, highly classified information.
Comey continues with — as he notes — an unusual amount of detail that he's revealing to the public about the nature of government communication. He discusses several email chains that were "classified at the Top Secret/Special Access Program level," and he says there's plenty of evidence to show that Clinton and her employees should have known they were speaking on an unclassified system. He brings the hammer down:
None of these e-mails should have been on any kind of unclassified system, but their presence is especially concerning because all of these e-mails were housed on unclassified personal servers not even supported by full-time security staff, like those found at Departments and Agencies of the U.S. Government — or even with a commercial service like Gmail.
Comey also notes that Clinton's use of a private server could carry severe implications because "it is possible that hostile actors gained access to Secretary Clinton's personal email account." Still, the FBI doesn't believe there was any intentional mishandling of classified information, including Clinton's deletion of work emails. And then, in the interest of "unusual transparency," Comey issued the bureau's final recommendation. He admits finding evidence of statutory violations, but there simply isn't enough strong evidence of intent, so "no charges are appropriate" in this case:
In looking back at our investigations into mishandling or removal of classified information, we cannot find a case that would support bringing criminal charges on these facts. All the cases prosecuted involved some combination of: clearly intentional and willful mishandling of classified information; or vast quantities of materials exposed in such a way as to support an inference of intentional misconduct; or indications of disloyalty to the United States; or efforts to obstruct justice. We do not see those things here.
Comey stressed that this determination isn't a suggestion that any other persons or officials caught up in similar circumstances would receive a similar ruling. He simply says, "that is not what we are deciding now." So, while the Department of Justice will make the final call here, the FBI has issued their findings on the matter. Comey concludes by admitting many people will be upset by the bureau's recommendations, but "opinions are irrelevant." Speaking of opinions, Donald Trump has already spoken on the matter.
(Via FBI.gov)