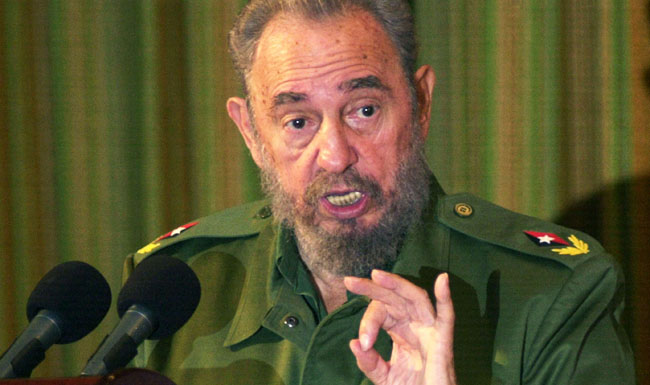 After many years of false reports and alleged attempts on his life, former Cuban leader Fidel Castro has passed away at the age of 90. He leaves behind a life that is about as divisive as any you can witness throughout history, standing as a hero to some and the devil to many more.
You don't have to look too far for evidence of this status. The streets of Miami fell into celebration once word of Castro's death spread, world leaders celebrated a friend and ally that stood in defiance, and others called it the death of a tyrant. A definite line runs between ideologies when it comes to memorials to Castro, led by Russian President Vladimir Putin in a statement to Cuban President Raul Castro:
"The name of this distinguished statesman is rightly considered the symbol of an era in modern world history," Putin said in a telegram to Cuban President Raul Castro cited by the Kremlin…

Fidel Castro was a sincere and reliable friend of Russia.""His memory will forever remain in the hearts of the citizens of Russia."
Former Soviet leader Mikhail Gorbachev preceded Putin with his statement and shared a positive word for Castro, highlighting his relationship with the USSR and lauding him for his role in shaping Cuba that leaves a "deep mark on the history of mankind":
Fidel stood up and strengthened his country during the harshest American blockade, when there was colossal pressure on him and he still took his country out of this blockade to a path of independent development. In the past years, even when Fidel Castro was not formally in power, his role in strengthening the country was huge.
South African President Jacob Zuma also shared a respectful memory of Castro and his history with the nation back through Mandela and Apartheid:
"President Castro identified with our struggle against apartheid. He inspired the Cuban people to join us in our own struggle against apartheid,"
There was also a wealth of praise from leaders across Latin America, with Mexican President Enrique Peña Nieto praising Castro as a "friend of Mexico" and the leaders in Venezuela and Ecuador bidding the leader a fond farewell below:
French President François Hollande made it clear that Castro was a divisive figure with his early morning statement on the leader's passing, noting the nation's condemnation of Cuba's human rights and the adversarial stance of the United States:
"Fidel Castro was a towering figure of the 20th century. He incarnated the Cuban revolution, in both its hopes and subsequent disillusionments," Hollande said…

"France, which condemned human rights abuses in Cuba, had equally challenged the US embargo on Cuba, and France was glad to see the two countries re-establish dialogue and open ties between themselves," the Socialist party leader added in a statement.
Castro's long history with India also drew praise from current Indian President Shri Pranab Mukherjee and others who shared a look back:
Former London Mayor Ken Livingstone called Castro an "absolute giant of the 20th century" in an interview with BBC 4 Today radio:
"I'm sure they will, over time, move towards something like a traditional west European democracy. It could have happened a lot earlier if you hadn't had, the entire time, a blockade by America, attempts to overthrow the regime, eight assassination attempts authorised by American presidents".
Many who shared their positive thoughts online looked at Castro's great successes in Cuba, highlighting the nation's healthcare and education system:
There's also a wealth of old photographs and meetings with past leaders being shared…
And a lot of Castro himself floating around, including a letter a young Castro sent to President Franklin Roosevelt and the Cuban leader showing off his selfie skills — which is clearly the most important thing to folks online:
Castro's legacy is truly given some weight once you see the men he has survived or opposed since he took power all those years ago. For some it's a triumph, but others see it as a dictator that refuses to leave power:
The latter point is carried by the reactions from many Cuban-Americans and officials in the United States, lead by Congresswoman Ileana Ros-Lehtinen, the first Cuban-American / Latina voted into Congress and one of the first Republicans elected to the house in Florida. She released an official statement shortly after Castro was reported to have died:
"The day that the people, both inside the island and out, have waited for has arrived: A tyrant is dead and a new beginning can dawn on the last remaining communist bastion of the Western hemisphere. The message is now very clear to those who think they will continue to misrule Cuba through oppression and fear. Enough is enough. The Cuban people have been shortchanged for too long to continue down this reviled path.

Those who still rule Cuba with an iron grip may attempt to delay the island's liberation, but they cannot stop it. Castro's successors cannot hide and must not be allowed to hide beneath cosmetic changes that will only lengthen the malaise of the Cuban nation. No regime, no matter who leads it, will have a shred of legitimacy if it has not been chosen by the people of Cuba in free and fair elections.
The reactions that followed fell in line with Ros-Lehtinen, citing Castro as a dictator and referencing the notable human rights issues that crept out of Cuba during and after his reign.
Some are also quick to point out his relationship with the United States, including the Cuban Missile Crisis that brought Russia and the United States to the brink of nuclear war and the many alleged assassination attempts on Castro over the years, highlighted here by Caitlin Hu:
Many also attempted to inject some humor into the leader's demise, allowing 2016 to celebrate its role in another notable death this year and highlighting the irony of Castro dying on Black Friday.
The Cuban leader's death also allowed "Fray Bentos" to trend, citing a joke from all the way back during the first series of The Office in UK.
But the true barometer for reactions to Castro's death comes from Miami, where many Cuban-Americans and exiles took to the streets to celebrate the end of an era that many deemed cruel and tyrannical. If some are praising Castro in other corners of the world, the folks in Little Havana are doing the complete opposite: