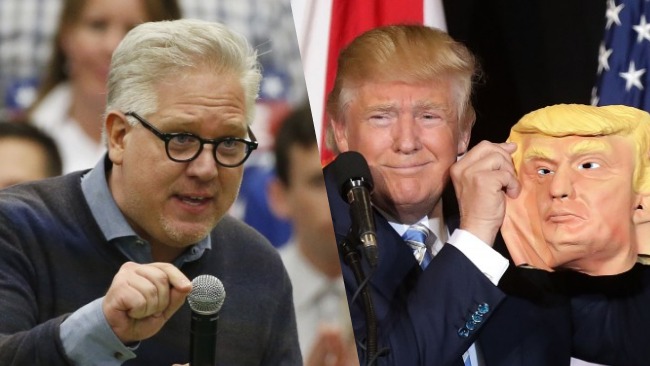 Between urging his followers to empathize with Black Lives Matter and opting for Hillary Clinton over the "psychopath" Donald Trump in the 2016 presidential election, Glenn Beck is having a weird year. The former Ted Cruz supporter, whose heyday on Fox News resulted in a digital media empire designed for ultraconservatives, finds himself threatened by his own former supporters and welcomed (to a degree) by the arms of those he formerly ridiculed. Like The New Yorker, which interviewed Beck for a short article that suggests the conspiracy theory peddler is now "[trying] out decency."
Why? For two reasons, mainly. The first has to do with Trump, the Republican nominee Beck never wanted. To explain his aversion to the New York real estate mogul, the ex-talking head told a brief story about meeting Trump at Mar-a-Lago without actually meeting him:
He told a story of Trump summoning him to a guest room at Mar-a-Lago; Trump then telephoned him from an adjacent room. "We had this weird, almost Howard Hughes-like conversation," Beck said. He left convinced that Trump was nuts. "This guy is dangerously unhinged," he said. "And, for all the things people have said about me over the years, I should be able to spot Dangerously Unhinged."
As for the second reason why Beck decided to alter his thinking publicly, the 52 year old credits President Barack Obama and First Lady Michelle Obama with his recent change of heart. He finds himself especially indebted to the latter's words in a speech given not long after news of Trump's Access Hollywood tape broke:
"I did a lot of freaking out about Barack Obama." But, he said, "Obama made me a better man." He regrets calling the President a racist and counts himself a Black Lives Matter supporter. "There are things unique to the African-American experience that I cannot relate to," he said. "I had to listen to them."
Considering the violence evoked by Trump's rhetoric (and his more ardent followers), the least surprising thing about New Yorker writer Nicholas Schmidle's article has to do with Beck's detail. When the two met for the interview, Schmidle noted Beck "was flanked by two bodyguards." Turns out Beck's recent condemnation of Trump and praise for Clinton has turned former readers and supporters against him, a "turncoat" deserving of "death threats."
"These people scare the hell out of me," said Beck.
(Via New Yorker)