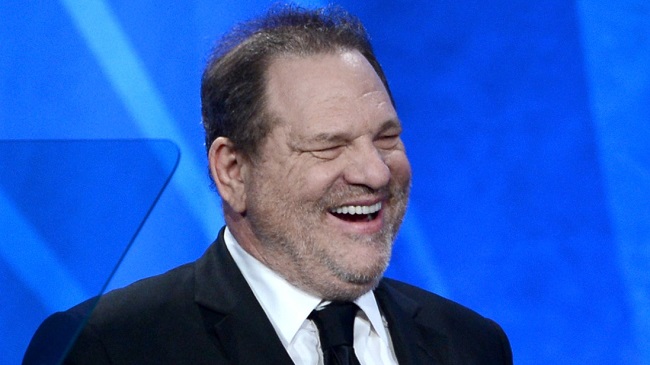 A new lawsuit by Harvey Weinstein's ex-personal assistant claims the former Hollywood mogul "used sexist and sexual language" while referring to her in conversation, and she also had to clean up after his "extremely prolific sexual encounters." Via The Hollywood Reporter, Sandeep Rehal is suing Harvey, his brother Bob Weinstein, and The Weinstein Company for discrimination and sexual harassment. What's more, she also has a claim against the company's human resources executive Frank Gil, whom she accuses of "aiding and abetting [Weinstein's] conduct." Also, he (reportedly) often dictated emails to her while naked.
Yes, that's right. According to Rehal's lawsuit, Weinstein would regularly dictate emails to her while nude:
Rehal also claims she regularly had to work with Weinstein while he was naked, and specifically mentions taking dictation of emails from him while he was in the nude on an almost weekly basis. She also claims Weinstein routinely made her ride in the back of his chauffeured Lexus SUV and groped her, and made sexist comments to her in front of other TWC employees.

"Harvey Weinstein used sexist and sexual language to refer to Ms. Rehal, regularly referring to her as 'c—' or 'pussy,'" states the filing. "On numerous occasions he said, 'What's wrong Sandeep, is the tampon up too far today?'"
Aside from this particularly horrifying office arrangement, which ultimately caused Rehal to quit after "she hit an emotional breaking point" in February 2015, she was also tasked with "catering " to her boss' "sexual appetites and activities":
"Much of Ms. Rehal's work as an employee of TWC involved catering to Harvey Weinstein's sexual appetites and activities, and catering to his demeaning and often abusive family members," states the filing. "Ms. Rehal was required to be involved in and aware of the preparations for, and clean up after, Harvey Weinstein's extremely prolific sexual encounters."
Rehal is not the first of Weinstein's former assistants or employees to speak out against him in the wake of the devastating New York Times and New Yorker exposes. Last October, ex-Miramax assistant Zelda Perkins breached an NDA to speak with the Financial Times in a damning interview detailing Weinstein's network of lawyers who suppressed stories and prevented employees going public.
(Via The Hollywood Reporter)