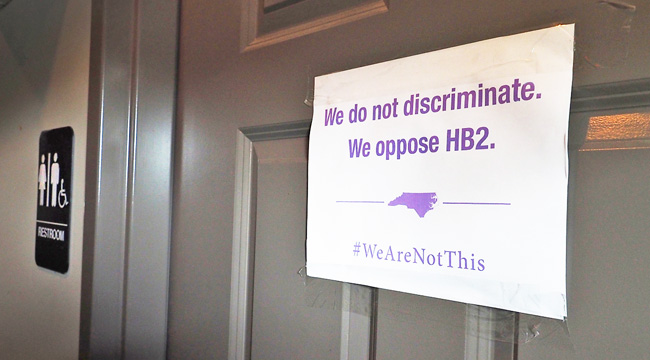 Surprise, surprise. It turns out a lot of businesses don't want to make deals with a state that passes discriminatory legislation against the LGBT community. After months of claiming that the HB2 law or "Bathroom bill" will not have any impact on North Carolina's economy, Republican lawmakers now have to face the music following a report that the state will most likely lose billions of dollars because of it.
According to a new report by the Associated Press, compiled through interviews and public records request, the state is set to lose $3.76 billion by 2028 because of the law banning people from using the bathroom according to the gender with which they personally identify. The law also takes it a step further by removing gender identity and sexual orientation from anti-discrimination protections.
In the last year alone, the state has seen plans for a Paypal facility crumble. It was estimated to bring in 2.66 billion. Deutsche Bank also pulled out of doing business with North Carolina, and Voxpro, CoStar, and Adidas have said "no thanks" to the southern state.
"We couldn't set up operations in a state that was discriminating against [the LGBT community," said Dan Kiely, Voxpro founder and CEO.
Large corporations aren't the only ones pulling out of North Carolina. The NCAA has also given the state an ultimatum — get rid of the laws or lose the right to host any NCAA games until 2022. On top of that, North Carolina residents can expect a wait before they see another NBA All-Star game, Bruce Springsteen concert, or even another celebrity wedding. A number of concerts, conventions, and sporting events have decided to boycott the state, leaving it $196 million short. As a result, residents can also expect to see some jobs take flight; the state has so far lost 2,900 direct jobs.
In 2016, then-Republican Gov. Pat McCrory issued a statement assuring residents it wouldn't affect North Carolina's status as "one of the top states to do business in the country." I guess it's safe to say he misjudged.
(via Associated Press)