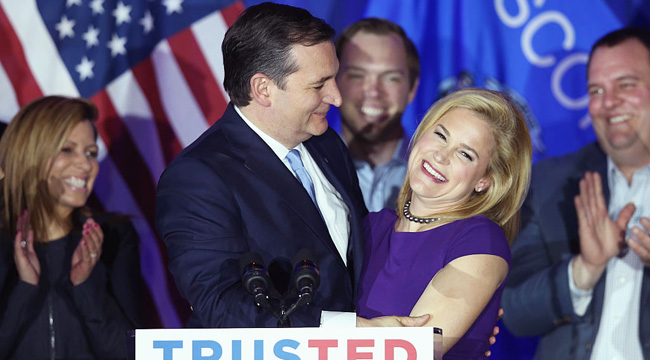 Any spouse of a presidential candidate knows they're in for a wild ride. In this spirit, Heidi Cruz puts up with a lot while her husband, Ted, makes a bid for the Republican nomination. Donald Trump has shown her no mercy, and Heidi weathered a tabloid-mistress scandal before coming to terms with her husband's frightening soup obsession. She's a trooper and knows these rumors and embarrassing stories are simply part of the game. But now Heidi faces a tough question.
By now, most internet browsers have seen the meme about Ted being the Zodiac Killer, which has brought much joy to spectators. For sure, Ted could only accomplish this dual identity if he was a time traveler because Zodiac began his tour of terror years before Ted was born in 1970. Yet the rumors persist, and Saturday evening's White House Correspondents Dinner saw Larry Wilmore do plenty of roasting. He targeted Don Lemon, and Wilmore addressed Ted's legendary status:
"There is a joke going around the internet that Ted Cruz is actually the Zodiac Killer … recently, Ted Cruz got a string of wins and endorsements, then everybody remembered who Ted Cruz is, the Zodiac Killer."
So, the joke officially became mainstream, and a brave Yahoo News reporter confronted Heidi at an eatery in Carmel, California. Here's what Heidi had to say about the meme:

"Well, I've been married to him for 15 years and I know pretty well who he is, so it doesn't bother me at all. There's a lot of garbage out there."
Well, that's not exactly a denial, is it? She listed marriage duration and kinda glossed over the rest. Something can be "garbage" and still be true. To be fair, we don't know whether the reporter asked, "Is Ted the Zodiac Killer?" or simply wanted to know what Heidi thought of the internet's childlike assessment of her husband. We also didn't get an answer about any of the doppelgangers, so the mystery remains.
On a related note, this hand-grasping display by Ted and Carly Fiorina is the most uncomfortable thing you'll see today.
(Via Yahoo!)