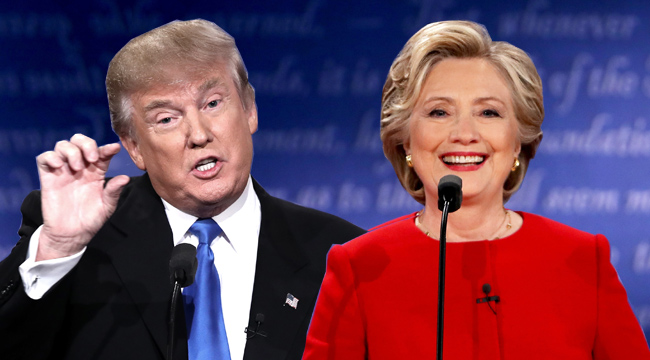 Donald Trump did not win Monday night's presidential debate. In fact, he turned the expectation game upside down. Looking back on his first primary debate, this shouldn't surprise much. When he took the floor at a Fox GOP event, Trump soon clashed with Megyn Kelly, which turned into a months-long feud full of "bimbo" remarks. Since then, Trump's ebbed and flowed in his behavior, but all along, his strongest opponent has been the woman who became the first major party nominee, Hillary Clinton. Also at that first primary debate, he insulted Rosie O'Donnell, and last night, he dragged himself down by doing so again.
This was one way that Trump lost "bigly," which is a play on his own made-up word that sparked Internet delight. Trump's used the word before in victory speeches, but here, he used it during a tax-rate discussion with Clinton: "I'm going to cut taxes bigly, and you're going to raise taxes bigly!" (Though there is debate from folks who claim he said he said "big league.") From there, it was downhill for the Republican nominee, who told CNN things went fantastic, but a CNN/ORC poll showed that 62% of debate watchers considered Clinton the winner with Trump only taking 27%. How did this happen?
Well, Clinton recovered nicely from her pneumonia spell. She was poised and on-point all evening, while appearing well-rested and well-rehearsed. In contrast, Trump visibly restrained himself at first, which backfired. For the first 20 minutes of the debate, he kept his emotions under control, but the Trumpness burst forth. He reverted to his "braggadocio" self, although he mistakenly said "braggadocious" instead. From there, Trump devolved into a series of half-truths and lies. And finally, he returned to his intense dislike of Rosie O'Donnell … during a presidential debate.
This debate contained an awkward Hillary joke and a sniffling Trump before he said scary things about nukes and lied about Iraq. We hit many policy moments, so let's consider the following missteps of strategy and behavior.

Trump Constantly Interrupted An Unfazed Clinton
The mogul dispensed with manners and repeatedly interjected his own thoughts while Clinton had the floor. Those who kept track heard him interrupt 26 times in 25 minutes while others placed the total at a whopping 51 with Clinton lodging just 17 such offenses. The total effect was one of impulsiveness and reflected a hibernation of Trump's prized negotiating skills. In addition, Clinton was rattling off policy points while Trump would simply repeat words like "not" and "wrong." At the conclusion of this CNN compilation, Clinton states "that by the end of this evening, I'm gonna be blamed for everything that's ever happened." Trump interjected, "Why not?"
Trump Attacked Clinton's Temperament Without Irony
One of Clinton's consistent criticisms of Trump is that he can't control his fiery temperament. He pops off on Twitter all the time, and she repeated a previous statement: "A man who can be provoked by a tweet should not have his fingers anywhere near the nuclear codes." But Trump insisted that he possessed a better personality and judgment: "I have a winning temperament. I know how to win." He didn't provide any examples of his allegedly docile ways but simply continued to insist, "My strongest asset is — maybe by far — is my temperament." Trump referred to a widely-panned, one-minute clip that Clinton filmed for a labor union last week: "There's a person with a temperament that's got a problem! You were totally out of control." She shouted no more in that clip than Trump does during any given speech, but he clung to that minute. An obviously amused Clinton gleefully beamed while Trump criticized her persona. She even gave a little "whoo!" and a shimmy. That moment occurs at :40 in this video.
Trump Stumbles On His Taxes And Brags About Wealth
Much damage occurred on the subject of Trump's taxes, which he's consistently refused to release due to being under audit. Here, he repeats how he's been "under audit for 15 years," which moderator Lester Holt points out is no barrier according to the IRS. When Clinton suggested that Trump paid no federal income tax, he appeared to agree and even said he feels "smart" as a result. He claimed that any taxes he paid would have simply been "squandered" by the government, so it's no big loss to the public. In this clip, Trump rambles on upon his self-claimed $694 million in income while adding, "That's the kind of thinking our country needs." Trump thinks a rich dude will do wonders to fix the U.S. trade deficit. He must have forgotten about all of his outsourced labor, but this is also a deflection away from his taxes.
Trump's "Presidential Look" Answer Led To "Stamina"
Trump's previous statements about what he feels is Clinton's lack of a "presidential look" came back to bite him when he tried to clarify by insisting that Clinton "doesn't have the stamina" to be president. Trump overplayed his hand with this insult over the past weeks, including in reference to Clinton's health, and she came prepared with an effective comeback: "Well, as soon as he travels to 112 countries and negotiates a peace deal, a cease fire, release of dissidents … or even spends 11 hours testifying before a congressional committee, he can talk to me about stamina." Trump tried to reply, but he was drowned out by the live audience.
Trump Made More Disparaging Statements About Women
The debate ended with an echo of the first primary debate that we discussed above and dealt a major blow to Trump. Clinton hammered him for calling women "slobs and dogs" and stating that "pregnancy is an inconvenience to employers." She also confronted him with how he called a beauty contest participant "Miss Piggy" and "'Miss Housekeeping,' because she is Latina." Trump was taken aback: "Where did you find this? Where did you find this?" Clinton replied, "[Her name] is Alicia Machado. And she has become a U.S. citizen." Trump asked, "Oh really?" And Clinton shot back, "And you can bet she's going to vote this November."
As if Trump's insults against a former Miss Universe weren't bad enough, Clinton pulled out more terrible things Trump said about women. He responded in one of the worst ways possible: "Rosie O'Donnell, I said very tough things to her, and I think everybody would agree that she deserves it and nobody feels sorry for her." And thus, Donald Trump returned to the very place he began on the debate stage. Rosie didn't stay quiet. She retaliated with profanity, but unlike Trump, O'Donnell's not running for president.
.@realDonaldTrump: "Everybody would agree that [Rosie O'Donnell] deserves it and nobody feels sorry for her." #debatenight #debates2016 pic.twitter.com/HzFhIs8xDo

— Fox News (@FoxNews) September 27, 2016