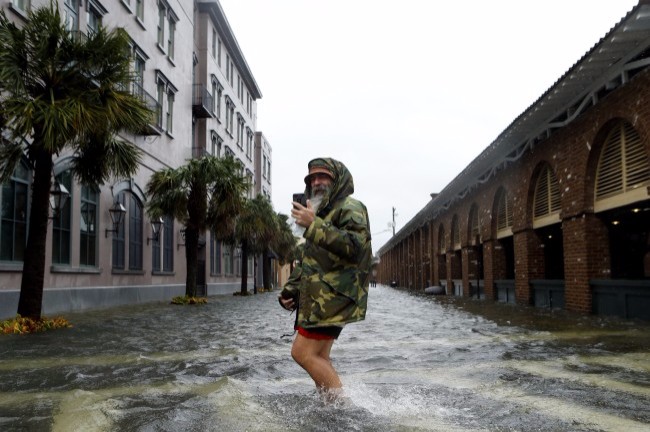 On Saturday, Hurricane Matthew reached landfall in South Carolina and authorities are now fearing the state could face serious flooding issues. The storm has already caused devastating effects, as over 800 people were reported dead in Haiti, more than 1 million people were without power in Florida, and 100 roads in South Carolina were deemed impassable.
ABC News reports how Matthew touched down in South Carolina on Saturday as a Category 1 hurricane. The National Hurricane Center said the state and southeast should still expect "strong winds and dangerous storm surge" and potential flooding. South and North Carolina are projected to accumulate between 8 to 12 inches of rain, with the possibility of some areas getting 15 inches. ABC News meteorologist Daniel Peck said the storm could be dying down, but still expects potential flooding:
"However, while weakening continues and the storm movement will be picking up speed, significant impacts will continue for about the next 24 hours. Our biggest concern is extreme rainfall and flash flooding."
Flooding and dangerous winds have ravaged the southeast as ABC News reported 400,000 people are without power in South Carolina as of Saturday morning. The storm is sweeping across the state, causing power lines to be downed and destruction in its path:
South Carolina Governor Nikki Haley said she has ordered that 1.1 million people move from the coastal areas, as they are expecting significant storm surges, falling trees, and flooding. But Haley said she is worried not enough people have evacuated:
"The best thing now is to just hunker down, stay in a safe place. Don't move, don't try and move around, make sure you have your cell phones charged. Nothing safe about what's getting ready to happen."
As Hurricane Matthew makes its way across South Carolina, it is expected to head back down towards Florida (again) and the Bahamas, as reported by The Weather Channel.
(Via ABC News & The Weather Channel)