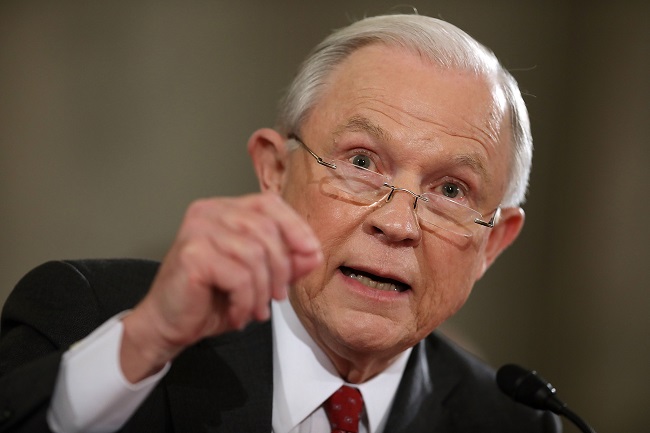 President Trump has always placed an extreme emphasis on loyalty, and his attitude towards Attorney General Jeff Sessions is no different. He recently expressed disappointment and regret in Session's appointment with the Justice Department, particularly as it pertains to Session's recusal from the Russia probe. But Sessions isn't having any of Trump's guff. Recusal or no recusal, he's going to keep on keeping on, no matter what President Trump has to say about the job he's doing and his involvement (or lack thereof) in the Russia probe.
Sessions comments came out of a press conference that was actually about AlphaBay, a black market hub in the dark web. But the Attorney General slipped in a few remarks responding to the interview Trump did with the New York Times in which Trump said "Jeff Sessions takes the job, gets into the job, recuses himself, which frankly I think is very unfair to the president. It's extremely unfair — and that's a mild word — to the president."
But the Attorney General doesn't see it that way, and he isn't going to resign from his post. "I have the honor of serving as Attorney General. It's something goes beyond any thought I would have ever had for myself," he said to the press. "We love this job. We love this department, and I plan to continue to do so as long as that is appropriate."
He also tried to extend an olive branch to the President, subtly reminding Trump that Sessions has been one of his biggest supporters. "We're serving right now, the work were doing today is the kind of work we intend to continue," he said. "We and this Department of Justice will continue every single day to work hard to serve the national interests, and we wholeheartedly join in priorities of President Trump."
But maybe Sessions doesn't need to worry so much. Though he considered resigning in the past, he's apparently been able to shine it on. Not to mention, if President Trump's numerous epithets for the Times are true, the whole interview was fake news from a failing paper, and Sessions has nothing to worry about from Trump.
(Via: CBS)