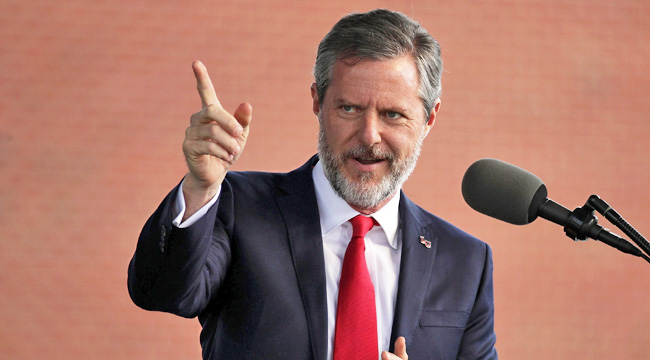 During the 2016 campaign, evangelical Christian and Liberty University president Jerry Falwell Jr. was a very prominent Donald Trump supporter, so much so that he was tapped to head up an education task force by the president. According to Falwell, that task force isn't happening, but he is part of a different one set up by the White House.
Falwell talked to Politico and said, "The White House contacted me last week and asked me to be a part of a group of 15 college presidents to address education issues." He went on to say that he's talked with other university officials but there haven't been any "substantive" discussions yet.
Now, Falwell was reportedly asked to be Secretary of Education shortly after the election, but wished to stay on at Liberty — hence the original task force idea. But the White House didn't confirm Falwell's new story when asked by Politico and also didn't confirm that the initial task force idea was dead. However, other sources have discussed education task forces aimed at tackling regulations in higher education that do not mention Falwell's name, even though that was the main idea of the task force he was supposed to lead.
If this all sounds suspiciously like the president dropping a long-time supporter, well, maybe it should.
(via Politico)