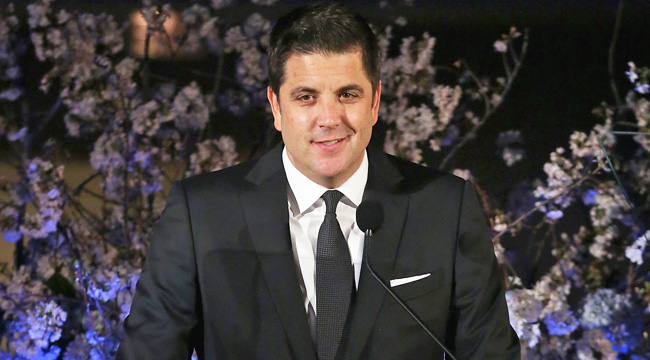 Josh Elliott has bounced around the three major networks but now appears to be out of a job completely. On Monday, it was reported that CBS fired Elliott after less than one year at the network. He previously served as a co-host for ABC's GMA before heading over to NBC in 2014 (thereby paving the way for Michael Strahan's entrance to GMA).
The report comes from Page Six, which places the blame on a bizarre on-air announcement by Elliott on Friday. He stated — much to the surprise of his CBS bosses — that he was departing CBS' digital channel for a greater role at the home network. Elliott revealed that this was his "last day" and that he had enjoyed "a great stay here at CBSN." Well, something went wrong, and dots weren't properly connected before Elliott announced:
It was surprising news — not least to CBS News execs, who had no idea he was announcing his plan to leave the online station. "This is a mess of epic proportions," said a network source. "Nobody at the top at CBS News knew that Josh was going to do that."

It seems Elliott — who joined the network from NBC in 2016 — had recently met with Laurie Orlando, the network's head of talent, who told him she wanted him to take on a bigger role at CBS News. "Then Josh announced his departure without warning," said the insider. "Executives at CBS were stunned."

Then on Monday, according to a source, "Josh was called to a meeting with CBS News heads including [president] David Rhodes and fired. He was escorted out of the building by security."
Page Six adds that Laurie Orlando is, um, "missing." No one appears to know where the heck she is, but it sounds like no one ever got around to communicating to the bosses that Elliott was pivoting into a different capacity. This still doesn't make much sense because — if this was the only issue at hand — Elliot probably (maybe?) wouldn't have been let go.
Meanwhile, a 2012 report (also by Page Six) painted an unflattering portrait of Elliott, who insiders said was very difficult. He reportedly didn't enjoy working with women and acted argumentative with the GMA crew. If that's true, then there's a decent chance that there's more backstory to the current CBS mess.
(Via Page Six)