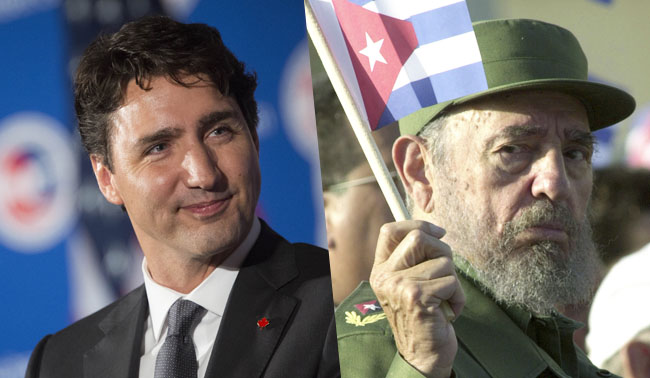 Much has been shared following the death of Cuba's former leader Fidel Castro. World leaders, including President Obama and President-Elect Trump, shifted tones and attempted to contain the controversial leader's life into a few short sentences, some praising him and others condemning him as a tyrant. This was to be expected, but one reponse from the day seems to have rubbed plenty the wrong way.
Canadian Prime Minister Justin Trudeau likely made one of the more positive statements on Castro's passing, citing his own personal connection to the late leader and calling him remarkable. This stands in contrast to many other leaders who didn't hestiate to criticize Castro for his human rights record, something that Trudeau did not mention:
"It is with deep sorrow that I learned today of the death of Cuba's longest serving President.

"Fidel Castro was a larger than life leader who served his people for almost half a century. A legendary revolutionary and orator, Mr. Castro made significant improvements to the education and healthcare of his island nation.

"While a controversial figure, both Mr. Castro's supporters and detractors recognized his tremendous dedication and love for the Cuban people who had a deep and lasting affection for "el Comandante".

"I know my father was very proud to call him a friend and I had the opportunity to meet Fidel when my father passed away. It was also a real honour to meet his three sons and his brother President Raúl Castro during my recent visit to Cuba.

"On behalf of all Canadians, Sophie and I offer our deepest condolences to the family, friends and many, many supporters of Mr. Castro. We join the people of Cuba today in mourning the loss of this remarkable leader."
Trudeau was swiftly rebuked by his opposition in Canada, including a tweeted statement by Conservative Parliament member Maxime Bernier:
Conservative leadership candidate Lisa Raitt also expressed her displeasure with Trudeau's statement, calling for him to apologize and retract in a fiery Facebook post:
I want to make my position clear. Fidel Castro was a monstrous dictator. He ruled Cuba with an iron fist for decades. He trapped the Cuban people in poverty while silencing dissent and arresting dissenters. His vision of totalitarian communism is a relic of the Cold War that must be tossed in the dustbin of history. Canada expects better from its prime minister than affection for tyrants. The Conservative Party I lead will always stand on the side of freedom-loving people around the world – not their oppressors.
Trudeau's statements also spawned a hashtag ridiculing his treatment of Castro with more #Trudeaueulogies for other falled dictators and leaders around the globe:
There's plenty more on Twitter if you peruse the hashtag. And for what it's worth, Trudeau is far from the only world leader to heap praise on Castro. It might be odd for the Prime Minister of Canada to speak about a controversial man like Castro in such glowing terms, but he's not the only person in the western world to do so.