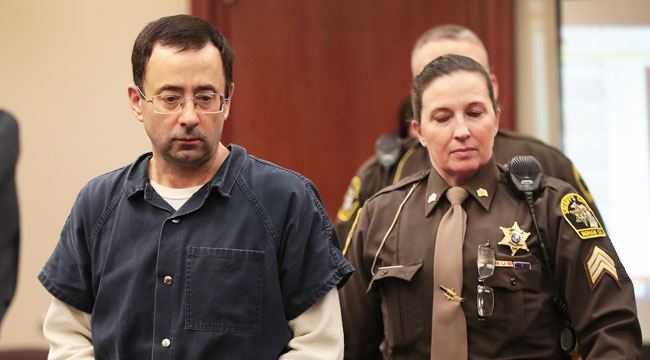 A Michigan judge recently sentenced Larry Nassar to up to 175 years in prison for sexually abusing hundreds of female athletes, and he's awaiting further sentencing in Eaton County on Monday. Much has rightfully been made about the glacial pace with which both Team USA Gymnastics and MSU officials responded to years of mounting allegations against the sports medicine practitioner, which has led to coverup accusations. The New York Times now points toward even more ball dropping, this time reportedly by the FBI.
In July 2015, the bureau began investigating Nassar over molestation accusations from three alleged victims (including McKayla Maroney and Aly Raisman), yet he continued to practice until September 2016 when the Indianapolis Star published the first public allegations from two gymnasts, including Rachael Denhollander. The NY Times paints a potentially damning portrait of the FBI process — during which Nassar reportedly molested at least 40 victims — that never halted the doctor's practice.
At some point during the probe, gymnastics officials turned over "instructional" videos used by Nassar that, as indicated below, prompted reactions of "disgust" by FBI agents, who were then spurred to act with "urgency," although the NY Times writes that the probe moved with "little evident urgency." The videos are described as very graphic:
Reporters for The New York Times have seen the videos, which show him kneading the legs of girls before his ungloved hands begin to work under a towel, between the girls' legs.

"It's not a fun place to dig," Dr. Nassar says to the camera. "Do the hand-shaky thing," he adds later, demonstrating how he shakes his hand vigorously when it is deep between a girl's legs.

W. Jay Abbott, who at the time was the special agent in charge of the F.B.I. bureau in Indianapolis, said on Thursday that while he did not watch the videos, he vividly remembered the reactions of colleagues who had.

"I will never forget sitting around the table and thinking, What?" said Mr. Abbott, who retired in January. "And the reaction of my special agents who were very well versed in this was one of disgust. That is why we worked it with such urgency."
There's no indication when the FBI agents viewed these videos, but it can be inferred that the footage prompted them to take the case seriously at an early point, yet their investigative hands still moved slowly enough that Nassar continued his trail of abuse without interference.
The rest of the NY Times feature contains heartbreaking accounts from victims who described Nassar's treatments, in which he would penetrate them vaginally and anally, as incredibly painful. One athlete, Alexis Alvarado, says that Nassar treated her monthly for a stress fracture when she was 12, and he "thought everything could be fixed through the butt." In fact, he was so apparently notorious that Alvarado (who felt "shame, and dread" due to Nassar's acts) says her teammates referred to him as the "butt doctor."
The list of Nassar accusers keeps growing, and at least 265 athletes have brought allegations. Also, there's an update about the father (of multiple victims) who attempted to attack Nassar on Friday in court — one of the deputies who restrained Randall Margraves repeatedly told him, "I understand."
(Via New York Times, Indy Star & ABC News)