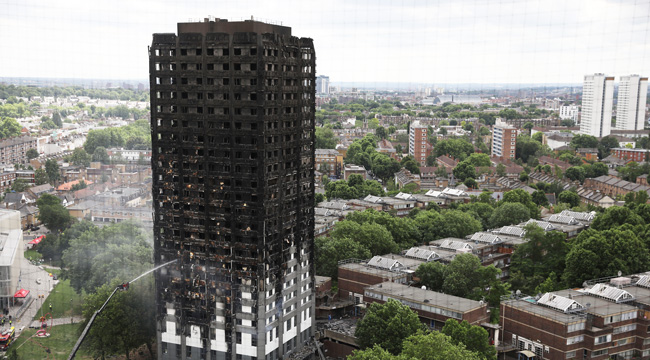 In the aftermath of the deadly Grenfell Tower fire in London that's so far left dozens dead, the question of where to place the survivors was quickly raised. Labor Party leader Jeremy Corbyn suggested empty homes in wealthy neighborhoods be "requisitioned."
"The ward where this fire took place is, I think, the poorest ward in the whole country and properties must be found — requisitioned if necessary — to make sure those residents do get rehoused locally," Corbyn said after visiting the scene.
Corbyn's proposal is coming to fruition, according to the Evening Standard as 68 apartments in a £2 billion luxury complex in Kensington just a few miles from Grenfell Tower will serve as permanent housing for families affected by the fire.
"Our priority is to get everyone who has lost their home permanently rehoused locally as soon as possible, so that they can begin to rebuild their lives," said Communities Secretary Sajid Javid. Some more details:
A source at the development said many of the flats had been bought by foreign buyers, often knocking through walls to make bigger homes.

The source said: "It is crazy money. The garage is full of Maseratis and Ferraris. But I think maybe the people here wouldn't mind the empty flats being used — it would be a way of giving something back. There are a lot of empty flats here — it would be the right thing to do."
The apartments, a mix of one-,two-, and three-bedroom spaces, were bought by the city of London handed over the local social housing authorities after the developer offered the apartments at cost. The new accommodations are expected to be ready for move-in at some point in July.
London Mayor Sadiq Khan has said that all Grenfell residents will be rehoused in the area unless they choose not to be.
(via Evening Standard)