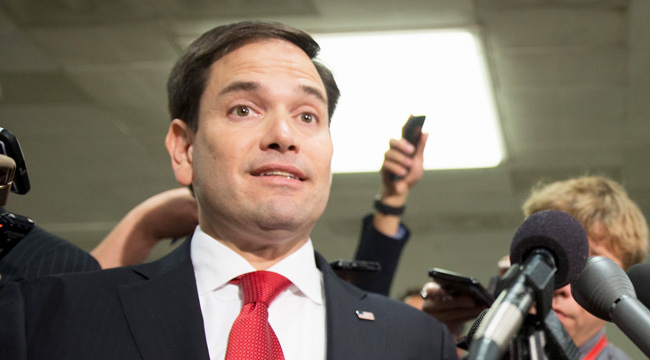 Florida Senator Marco Rubio, a "great guy" according to President Trump, became a potential roadblock for the GOP tax bill when he told his Senate colleagues he would be a "no" vote on the revised legislation. Unless, of course, the expanded child tax credit he wanted was included in the final version of the bill. According to a new report from CNBC, Rubio's opposition to his own party didn't last very long.
After finalizing the bill, the GOP will make it publicly available late Friday. It is believed Rubio got what he wanted:
Rubio and Lee clearly got more money toward refundability of the child tax credit, expanding that part to $1,400, from $1,100. The expansion of the refundability piece, which is part of the $2,000 child tax credit in the tax bill, was made explicitly to secure Rubio's support.
While the GOP is confident they now have the support needed to pass the otherwise unpopular legislation with a simple majority, several Republican senators are still weighing their options (or currently hospitalized). This means the bill's passage is anything but guaranteed. It's not yet known what changed in the bill to secure Rubio's deal, but it might not be much given the varying views about a child tax credit designed to help working and middle-class votes:
But it's also important to note that many Republicans don't agree with Rubio on the policy — they view refundability (the amount someone is eligible to receive beyond their income tax liability) as a form of welfare.
As one Republican aide working on the bill told CNN on Thursday, "It's fair to say we wouldn't lock ourselves into something if we didn't think we had the votes."
UPDATE: According to Politico, Rubio's renewed support for the GOP tax bill has been confirmed. Described as a "key holdout" because of his initial public demands, pundits now suspect Republicans will have little to no issues getting the controversial legislation pushed through to President Trump's desk before Christmas.