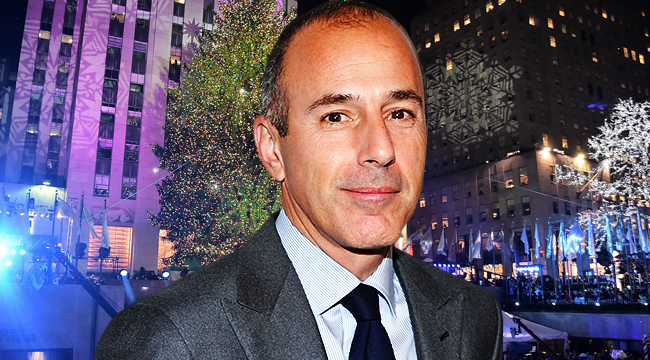 Matt Lauer's sudden dismissal from NBC's Today was addressed as a timely "sign of progress" by Megyn Kelly and (unavoidably) an overdue dose of comeuppance on behalf of Ann Curry fans like Meghan McCain everywhere. Yet the timing of NBC's announcement, which dropped following an internal investigation, has ended up throwing a wrench into the production of Wednesday night's Rockefeller Center Christmas tree lighting ceremony.
Page Six, whose well-placed sources frequently leak NBC-related scoops, reports that much of the ceremony's vital footage has already been taped. As a result, the network is trying to quickly edit out any Lauer appearances — he was scheduled to emcee, of course — so that he doesn't suddenly make an unwanted cameo within tonight's live event. Because that would be a terribly uncomfortable juxtaposition:
"Much of that has been pre-taped already," said an insider, "They must be scrambling to figure out how to edit around that. Awkward!"

As of Wednesday, Lauer was still listed as one of the emcees on NBC's site, along with Today colleagues Savannah Guthrie, Hoda Kotb and Al Roker.
Indeed, the magic of television necessitates the weaving of "live" footage with pre-taped bits and pieces, so several people's jobs must have grown much harder as a result of Lauer's surprise firing. Page Six further reports that one accusation that presumably led to the investigation — the alleged sexual harassment of an NBC employee during the course of Sochi Olympics duties — came to light on Monday. If that detail is true, the turnaround for Lauer's dismissal was indeed quick, and it remains to be seen exactly how tonight's tree-lighting coverage will fare as a result.
(Via Page Six)