One wonders how historians will eventually treat our current presidential race. On countless occasions, political junkies have wondered if the time was right to consider Donald Trump the true GOP frontrunner for the White House. After Saturday evening's South Carolina victory, it's again become clear that this is no longer a trivial matter. It's time to buckle down and consider what life under President Trump would be like. Checking out how he treats his family may provide some insight.
We've already seen how Trump's daughter, Ivanka, respects her dad, although he's made some skeevy remarks about her. In September 2015, he told Rolling Stone, "Yeah, she's really something, and what a beauty, that one. If I weren't happily married and, ya know, her father…" Obviously, this is a joke, but it doesn't sit well with folks, especially after the internet revisited a 1996 photo of Ivanka stroking her father's chin (as they sat atop some concrete parrots getting randy). Still, Ivanka believes Donald's a "champion" of women. Ivanka has also delivered plenty of speeches on his behalf.
Who haven't we heard from during this campaign? Donald's Slovenian-born wife, Melania. Many folks see her as a mysterious figure, shrouded within gold-plated decor, but Melania must be a tolerant woman. The world doesn't know much about Melania (aside from her modelling career), but Trump speaks of her on occasion. He once told Howard Stern (via Buzzfeed) that Melania doesn't poop, so she's his ideal woman because Trump can't fathom women having bodily functions. After all, he once tore apart Hillary Clinton's bathroom break and labelled breastfeeding women as "disgusting."

During the Trump rally in Tulsa, Trump admitted that Melania thinks people don't attend his rallies because the television doesn't show his "beautiful" supporters. He's correct, for the cameras never zero in on crowds like these, but he's also revealing how Melania isn't interested in attending these rallies. However, she's showing up when it matters, so she's been present during the Iowa caucus and New Hampshire primaries. The cameras captured evidence: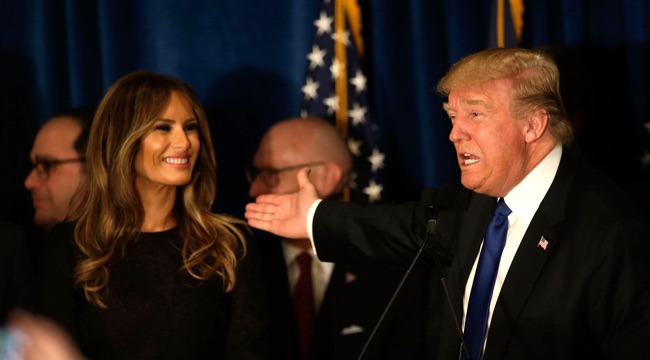 After Donald's South Carolina win, he spoke about how his Mexican wall "just got ten feet higher!" Trump thanked his immediate family — all present alongside him — and said, "It's not easy for them." This statement could have humanized Trump as feeling deeply about the spotlight's glare on his loved ones. However, he placed the spotlight back on himself by saying, "They don't see me anymore. I'm making speeches all the time." Then he invited Melania to speak, and she took the mic at around 2:40.
People were confused, and it had little to do with Melania herself. Folks do wonder how Melania, an immigrant and non-native speaker of English, can tolerate Donald and Sarah Palin's opinions on those who don't "speak American."