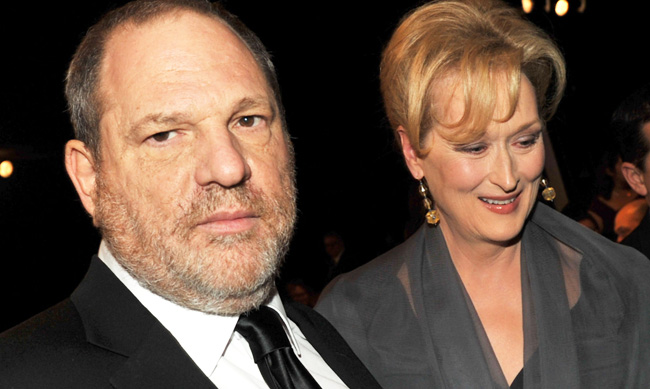 Much like Jimmy Kimmel after his emotional (and political) monologues on health care and the Las Vegas massacre, actress Meryl Streep is the latest to be targeted by street art in LA. The posters, which popped up overnight in multiple locations around the city (including near Streep's home), feature a photo of the Oscar juggernaut standing next to disgraced producer Harvey Weinstein. Notably, there's a strip over Streep's eyes that reads, "#SheKnew."
Streep, of course, has been engaged in a war of words with Rose McGowan after the latter accused her of hypocritically staging a silent protest (to wear all black) at the Golden Globes in response to the Weinstein sexual assault allegations. The "#SheKnew" on the poster seems geared toward McGowan's assertion that "YOUR SILENCE is THE problem."
As the above Twitter user indicates, there's zero evidence that Streep "knew" anything about Weinstein's alleged pattern of sexual assault against actresses. Over the weekend, Streep even stated (in response to McGowan), "I don't tacitly approve of rape … I didn't know this was happening." So, who is responsible for these posters?
The street artist in question has not yet come forth to claim credit, and there's little chance of that happening (both because of the potential for a libel suit and because that's how such street artists often operate). However, it's notable that right-wing conspiracy theorist and Pizzagate truther Mike Cernovich is promoting the heck out of this "artistry." He tweeted a link to the People story about these posters and also posted the below video clip.

As noted with the street artist who targeted Kimmel, those Twitter users who are pushing the #SheKnew tag include accounts who push right-wing content. Along with Cernovich, they're celebrating the downfall of Weinstein — because he's a longtime donator to Democrats (who largely repurposed that money to women's causes since the scandal began) — and including Streep for fun.
On the off chance that the person (or persons) responsible for these posters comes forward, we'll be sure to update with those details.