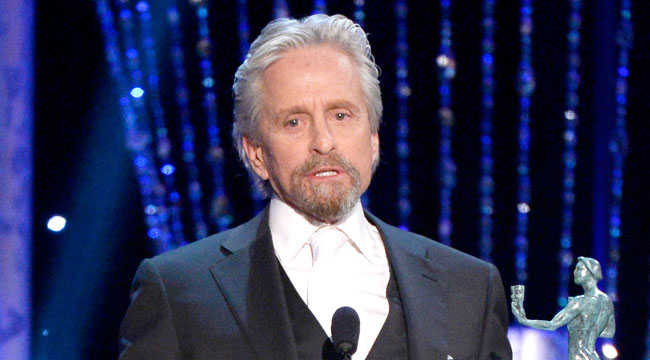 While James Franco faced tough questions over sexual misconduct, Michael Douglas was preparing to take preemptive action after catching wind of an accuser who planned to come forward against him with sexual harassment allegations. The result? A lengthy, unusually handled interview with Deadline, which does not stay impartial on the matter before Douglas vehemently insists that a story from a former employee — who accuses him of masturbating in front of her 30 years ago — is entirely false.
Douglas reached out to Deadline after being contacted over the holidays by the Hollywood Reporter and Variety about the woman's accusations. In turn, Deadline writes that the actor "was uncomfortable waiting to be the villain in a narrative" that he had no control over. Some editorializing takes place prior to the meat of the interview, including the following:
Douglas felt strongly enough that he would prefer to have some control over the narrative, that he asked to tell Deadline his story. The accusation story will most likely follow elsewhere, but in this moment of "she said, he said" trial by journalism, it was never specified whose version had to be first.
Douglas then proceeds to discuss this former employee, who he remembers, and he insists that he did not masturbate in front of her or blackball her from other jobs in the industry. He repeatedly denies all of the claims (except for using "colorful language," which he apologizes for) and delivers his rationale for the preemptive denial:
"I felt the need to get ahead of this. It pertains to me but I'm also getting a sense of how it reflects in our culture, and what is going on today. I see it as a cautionary tale.

"It's extremely painful. I pride myself on my reputation in this business, not to mention the long history of my father and everything else. I don't have skeletons in my closet, or anyone else who's coming out or saying this. I'm bewildered why, after 32 years, this is coming out, now. As I say, I will fess up to colorful language, but the issue of masturbating in front of her? That rung is something I've only heard about the last year. It's not an expression that related to the '80s. So I thought it stunk. And I tried to figure out, why the hell would somebody do this? The part that hurt the worst is having to share something like this to your wife and your children. My kids are really upset, has to go to school worrying this is going to be in some article about me, being a sexual harasser. They're scared and very uncomfortable."
Douglas then states that his wife, Catherine Zeta-Jones, supports him in this matter, and he says that he hasn't spoken to the accuser in 30 years, but he did some digging. He describes her as a "blogger," who is possibly "disgruntled" over her career and may hold a grudge against him for that reason. He also suspects that she's "trying to get a book deal." Again, this is an atypical move amid the #MeToo movement (which Douglas states that he supports), and you can read the full piece here.
(Via Deadline)