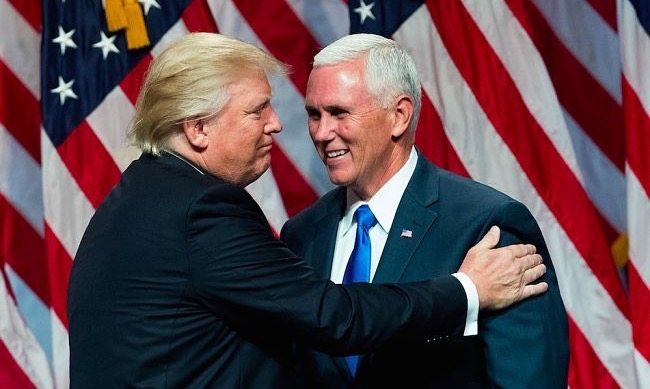 Like father, like son. Like president, like vice president.
Everyone had a grand ol' time making fun of Donald Trump's tweet from June 2014, when he wrote, "Are you allowed to impeach a president for gross incompetence?" He was referring to Barack Obama, but it's a question many have asked about the current president. If Trump is, however unlikely, impeached, then white-haired Vice President Mike Pence would step in and run the country (or at least become Steve Bannon's mouthpiece). In one respect, he's already acting presidential: the internet recently dug up a tweet that, like Trump's "gross incompetence" query, he probably regrets writing.
As we reported on Thursday, public records show that while governor of Indiana, Pence "communicated via his personal AOL account with top advisers on topics ranging from security gates at the governor's residence to the state's response to terror attacks across the globe." A scandal involving email? That sounds familiar. Pence was one of Hillary Clinton's most outspoken critics over her use of a private email server — last year, he tweeted, "[Trump] and I commend the FBI for reopening an investigation into Clinton's personal email server because no one is above the law."
Pence also said, "What's evident from all of the revelations over the last several weeks is that Hillary Clinton operated in such a way to keep her emails, and particularly her interactions while Secretary of State with the Clinton Foundation, out of the public reach, out of public accountability. And with regard to classified information, she either knew or should have known that she was placing classified information in a way that exposed it to being hacked and being made available in the public domain even to enemies of this country." Pence's account was hacked last summer (by someone, according to the New York Times, "who sent an email to his contacts claiming that Mr. Pence and his wife were stranded in the Philippines and urgently needed money." Both Republicans and Democrats can agree: that's hilarious.)
Twitter was quick to pounce on Pence's hypocrisy. And AOL jokes.