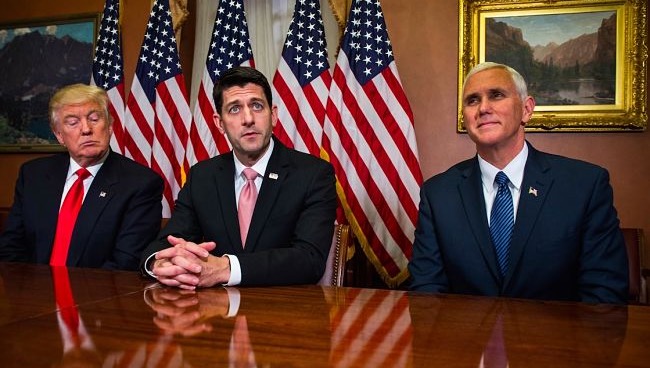 Speaker of the House Paul Ryan was pretty proud of himself when he set the "record for the most number of #CapitolHill interns in a single selfie." Of course, he also took the whitest selfie of all-time, and was widely criticized for it, especially by diverse Democratic House interns. You'd think other Republicans would have learned from Ryan unintentionally revealing his favorite Beatles record is The White Album — but of course, that would require more people of color in the House. That's not the case. FiveThirtyEight reported before the election that "87 percent of House Republicans are non-Hispanic white men, compared with just 43 percent of House Democrats."
Here's visual proof of the GOP's snowflake whiteness:
According to the House Republicans' Twitter account, Vice President-elect Mike Pence "just joined House Republicans at our planning conference meeting." He met with, among others, Congresswoman Cathy McMorris Rodgers, who serves as the Chairman of the House Republican Conference. Needless to say, once the photos hit Twitter, everyone noticed one thing.
To be fair to Pence — who had his picture taken while he was taking a picture with a selfie stick, and now blood is dripping out of my nose like Eleven from Stranger Things — his photo was slightly more diverse than Ryan's.
Progress? Also, don't forget to donate to Planned Parenthood in Pence's name.
(Via House Republicans)