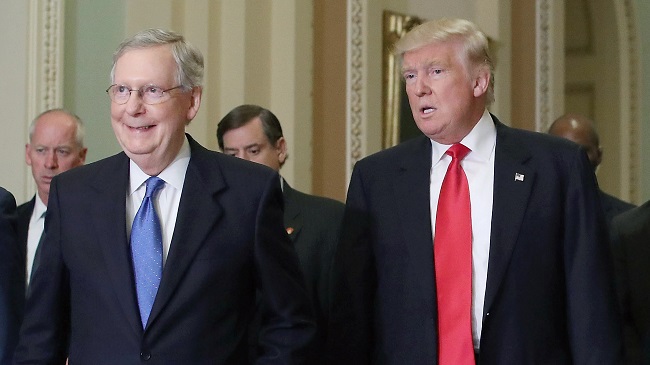 If President Donald Trump knows what Senate Majority Leader Mitch McConnell said about him on Monday, he hasn't publicly said as much. Not that anyone could blame him, since he's been too busy threatening North Korea with "fire and fury the world has never seen" and bolstering these threats despite State Secretary Rex Tillerson's comments to the contrary. Even so, many of the president's most ardent supporters in the news media (i.e. Fox News), in the White House and online did read about McConnell's complaints about Trump's "excessive expectations." And they're not happy about it.
Fox Business personality Lou Dobbs got the ball rolling Tuesday night by chastising McConnell for "refusing to take responsibility for his failures to deliver legislative victories." As a result, he later argued in a tweet, Republicans should "Ditch Mitch" and support the president's agenda. Yet the real fire started Wednesday morning, when Fox News host and outspoken Trump supporter Sean Hannity joined in the fray.
"No Senator," he wrote, "YOU are a WEAK, SPINELESS leader who does not keep his word and you need to Retire!" Meanwhile, Fox & Friends co-host Brian Kilmeade called the top Republican senator an "embarrassment" during a brief segment on McConnell's comments, which were made at a Rotary Club event in his home state of Kentucky. As a result of this amplified coverage, the senator's complaints quickly reverberated throughout conservative Twitter, which immediately began attacking him with reckless abandon.
The response with the highest profile ultimately came from Dan Scavino, the White House's director of social media, who picked up on Dobbs' report from Tuesday night and ran with it. "More excuses," he tweeted late Wednesday morning. "[McConnell] must have needed another 4 years — in addition to the 7 years — to repeal and replace Obamacare." So, if Trump still hasn't seen or heard McConnell's complaints about his relationship with Congress just yet, he surely will once Scavino's tweet flashes across his news feed.
UPDATE: Like clockwork, Trump responded to McConnell's "excessive expectations" comments on Twitter early Wednesday afternoon. "I don't think so," he tweeted. "After 7 years of hearing Repeal & Replace, why not done?" The phrasing was unsurprisingly similar to Scavino's tweet from a few hours earlier.