Several comparisons between the respective inauguration crowds of Presidents Barack Obama and Donald Trump made their way across the Internet on Friday. Even the New York Times wrote about the telling images, though it was a tweet by NYT Washington correspondent Binyamin Appelbaum that caught Twitter's attention. "Compare the crowds," he wrote, adding: "2009 inauguration at left, 2017 inauguration at right." Over 36,000 retweets and 37,000 likes later, Appelbaum's tweet quickly appeared on Twitter accounts across the social media platform — even the official one managed by the National Park Service.
Per The Hill, the account retweeted both Appelbaum's tweet and another from Esquire concerning the updated WhiteHouse.gov website. As of this writing, both retweets are still at the top of the National Park Service's page, though now that the Trump administration has officially taken charge they probably won't stay there much longer.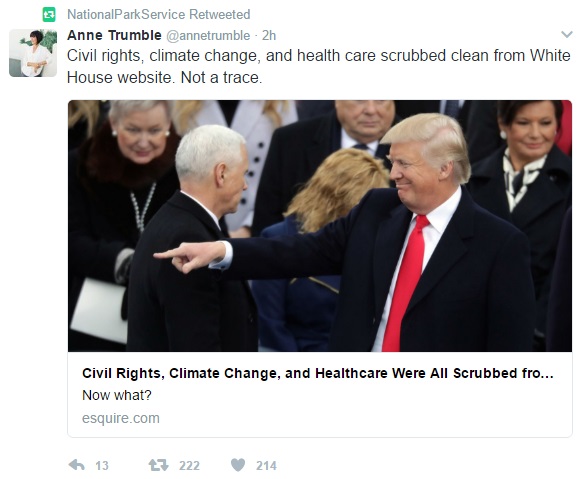 The National Park Service has yet to comment publicly on the matter, though Gizmodo posits the retweets may have been inspired by the organization and its allies' disapproval of Interior Department secretary nominee Ryan Zinke. As National Parks Conservation Association President Theresa Pierno told the NYT following the Montana representative's nomination back in December, "Mr. Zinke has advocated for state control of energy development on federal lands, a move that threatens our national parks."

Whatever the case may be, we're sure Parks and Recreation's Leslie Knope would have approved of the retweets were she in charge of more than just Pawnee, Indiana's natural, and recreational wonders.
UPDATE: According to Gizmodo, the National Park Service was directed to "immediately cease use of government Twitter accounts until further notice" by the Department of the Interior after the above retweets went viral. Both were removed from the official Twitter account without official comment, but an internal email reveals the department's official order:
All:

We have received direction from the Department through [the Washington Support Office] that directs all [Department of Interior] bureaus to immediately cease use of government Twitter accounts until further notice.

PWR parks that use Twitter as part of their crisis communications plans need to alter their contingency plans to accommodate this requirement. Please ensure all scheduled posts are deleted and automated cross-platform social media connections to your twitter accounts are severed. The expectation is that there will be absolutely no posts to Twitter.

In summary, this Twitter stand down means we will cease use of Twitter immediately. However, there is no need to suspend or delete government accounts until directed.
This does not affect use of other approved social media platforms. We expect further guidance to come next week and we will share accordingly.
Thanks for your help!
The email never references Friday's retweets directly, but as an anonymous NPS employee told Gizmodo, "it was because of those two [retweets] (which might have been an accident)."