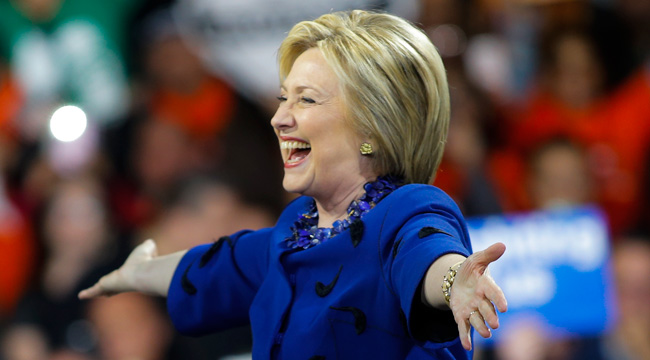 We're now just short of 48 hours since the conclusion of the Democratic National Convention and a couple of new polls are already indicating a solid bounce for nominee Hillary Clinton. A new Reuters/Ipsos poll released Friday — the day after Clinton formally accepted her nomination in Philadelphia, showed a post-convention uptick moving her to a six-percentage point lead over Republican nominee Donald Trump. In addition, RABA Research, a bipartisan polling firm, conducted an online, nationwide survey on Friday in which Clinton opened up a commanding, 15-point lead.
The Reuters poll, which surveyed 1,043 likely voters and overlapped with the convention, displayed nearly 41 percent of likely voters favoring Clinton, with 35 percent favoring Trump and 25 percent choosing "other." The RABA Research poll, cited on Twitter Saturday morning by 538's Nate Silver, showed Clinton with 46 percent support as opposed to Trump's 31 percent.
These numbers, while obviously encouraging to Clinton supporters, aren't necessarily stable, especially with over 100 days left until the general election. As noted frequently by Jon Favreau and Dan Pfeiffer, former staffers of President Obama, on their weekly podcast "Keepin' It 1600," the "poller-coaster" can say a lot of different things on a regular basis.
Still, even though bumps in the polls are typical coming off of conventions (Trump closed to within single digits in most polls conducted after the Republican convention, even surging into the lead in one), these results portend strongly for Clinton, who has led the race almost in its entirety thus far and now seemingly sees her foundation fortified.
(Via Reuters & RABA Research)