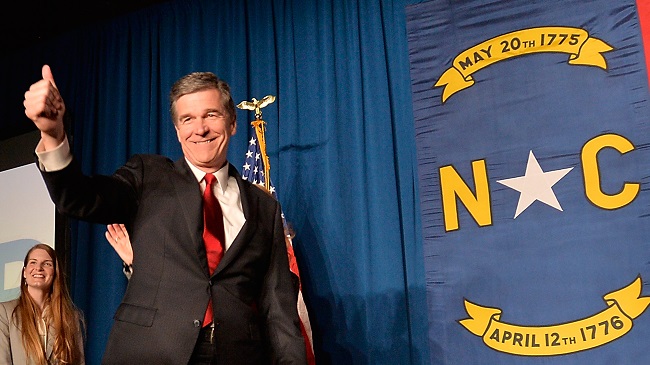 Outgoing Republican Gov. Pat McCrory finally conceded to his Democratic challenger, Attorney General Roy Cooper, a full four weeks after North Carolina's bitterly contested gubernatorial election. During the month prior, the state politician most famous for the nationally maligned HB2 "bathroom bill" spent his time arguing against his concession with numerous suggestions of voter fraud — the very topic his own administration and party have found themselves mired in. Now that Cooper's about to take the reins, however, the North Carolina GOP's frustration will ultimately subside, right? Guys?
Turns out the actual answer is "wrong," as the Republican controlled state legislature proved on Wednesday by calling a late special session after another special session dedicated to allocating relief for Hurricane Matthew.
According to the New York Times, the new measures drafted hastily by the North Carolina General Assembly would "end the governor's control over election boards," "require State Senate approval of the new governor's cabinet members," and "strip his power to appoint University of North Carolina trustees." If the measures pass, which is all but guaranteed by the GOP's majority and the likelihood Gov. McCrory will sign off on them, incoming Gov. Cooper would find his new office far more powerless than his rival party's legislative control already makes it.

As House Speaker Tim Moore (R-Cleveland) told CBS News, the new session called after the initial special session dedicated to hurricane relief was "lawfully called." Senate leader Phil Berger (R-Rockingham) echoed Moore's sentiments, noting "When we were in the minority, we would complain about these things and they would do it. They are now in the minority." Yet the late session's surprise timing — especially since it followed another dedicated to disaster relief — has many Democrats and protesters decrying the process:
"This is why people don't trust us, this is why they hate us … because of this right here — using hurricane relief as the reason to come back to Raleigh to do a lot of things because you lost an election by 10,000 votes," Rep. Darren Jackson, D-Wake, said on the House floor.
In a statement responding to the initial special session, Gov. McCrory applauded the Senate Appropriations Committee's declaration that they hadn't "forgotten" all the North Carolina residents who were negatively affected by Hurricane Matthew. As for the extra-special session called by his party colleagues regarding his successor's administrative powers, however, McCrory chose not to comment.
(Via New York Times and CBS News)