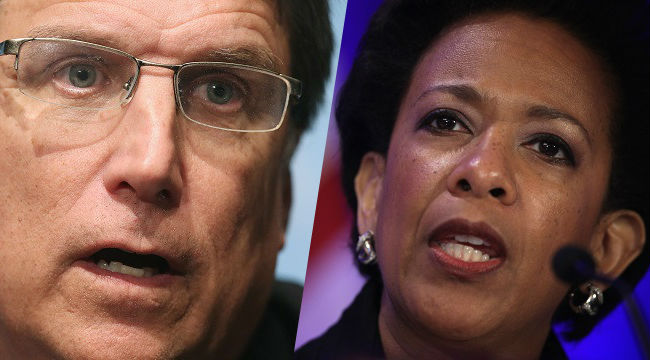 When the U.S. Department of Justice delivered its ultimatum to the office of North Carolina Gov. Pat McCrory last week, they stipulated that the latter had until Monday, May 9, to comply. Compliance meant acknowledging that House Bill 2, otherwise known as the "bathroom bill," violates Titles VII and IX of the Civil Rights Act by disallowing transgender persons from using the public restrooms of their choice. As a result, these requirements shouldn't be enforced, and North Carolina must adhere by today. Instead of acquiescing to these demands, however, the Republican leaders of the state's general assembly announced they would sue the federal government.
"We will take no action by Monday… That deadline will come and go," North Carolina Speaker of the House Tim Moore told The New York Times. "The legislative process doesn't work where a response can be given by just a few days, so we're going to move at the speed that we're going to move at to look at what our options are at this point."
Despite Moore's defiance, he and other state Republican lawmakers took a private meeting with Charlotte Mayor Jennifer Roberts, one of HB2's most vocal opponents. The NYT thought this might indicate that legislative leaders were concerned with the potential consequences of ignoring the Justice Department's mandated deadline, which includes the loss of hundreds of millions of dollars in public school funding.
Yet as NBC News reports, one of Moore and his colleagues' "options" apparently includes filing suit against the federal government. That's precisely what McCrory and several other listed plaintiffs did in federal court on Monday morning. Calling the deadline a "baseless and blatant overreach" of the Justice Department's power, the lawsuit argues that transgender isn't a status recognized by Title VII of the Civil Rights Act. As a result, "If the United States desires a new protected class under Title VII, it must seek such action by the United States Congress."
Interestingly, the lawsuit wasn't filed by North Carolina's Attorney General's office. McCrory and the plaintiffs instead went through a private law firm because Attorney General Roy Cooper, who is campaigning against McCrory for the governor's seat, disagrees with HB2.
(Via NBC News and The New York Times)