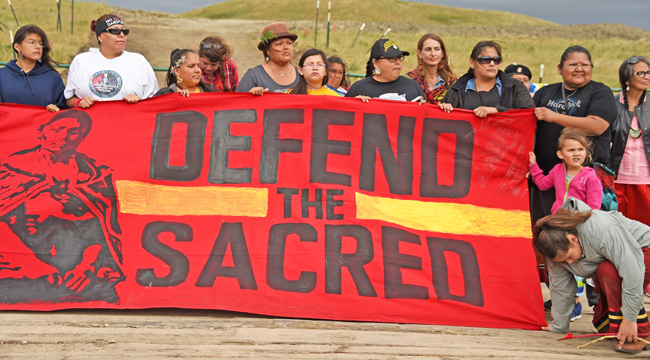 For two months, a frustrated crowd has gathered near the construction site of the Dakota Access Pipeline (DAPL) near Cannon Ball, North Dakota. At times, indigenous protesters and construction crews have violently clashed, including an episode where construction guards reportedly broke out pepper spray and released dogs upon those who refused to leave the site. Protesters countered that the land may contain Standing Rock Sioux Tribe burial sites. They also worry that once the 1,200-mile, $3.7 billion pipeline is complete, it could contaminate the tribe's water supply as it carries oil from western North Dakota to Illinois.
The crowd has grown (ranging from hundreds to thousands) as the weeks have passed. On Thursday afternoon, authorities moved to clear the protesters from the private property after groups spent the weekend setting up a "winter camp" that included teepees and other structures. Sheriff's deputies and police — who moved in with tear gas and non-lethal beanbag rounds launched from guns — arrested at least 80 people. During the melee, protesters set fire to tires and a bridge. These photos from the Morton County Sheriff's Department show an aerial view.
The group of about 200 people gave a mixed response with some protesters resisting and others retreating:
On a nearby ridge, work crews and earth-moving equipment could be seen, along with a private security force. It appeared they were waiting for protesters to be cleared so that work on the pipeline could resume. Empty school buses were parked nearby, apparently to transport those arrested, and authorities blocked a stretch of highway with old cars, tires and other debris. At one point, the tires were set afire, cloaking both protesters and police in thick, black smoke. Several protesters heaved logs onto the windshields of the military-style vehicles driven by officers While some of the protesters held their ground, others slowly retreated.
The state of North Dakota tells ABC News that no sacred sites are located near the pipeline. However, a 64-year-old Standing Rock protester and Vietnam War vet named Robert Eder says protesters will not leave for good, even if authorities arrest them all: "If they take everybody to jail, there will be twice as many tomorrow, and every day that passes more will come."