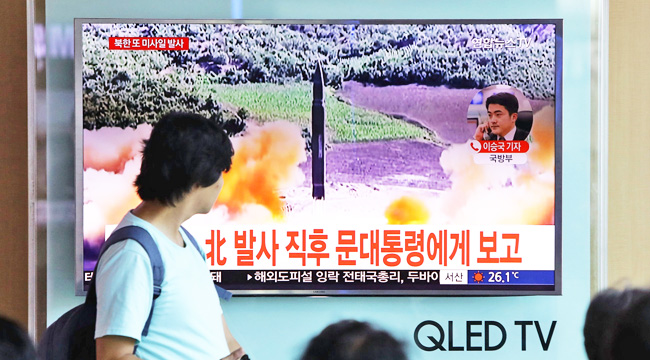 On Tuesday, North Korea conducted another weapons test by launching a missile over Japan's Hokkaido Island, where the U.S. and Japan had been conducting military exercises. The incident set off sirens in northern Japan along with emergency text messages. North Korea is now saying that the launch was a warmup for action it plans to take against Guam:
The country's state-run Korean Central News Agency reported leader Kim Jong Un presided over the dawn launch Tuesday of the "ultra-modern rocket system," the first missile ever fired from the capital Pyongyang.

North Korean officials told CNN in Pyongyang that Kim was "very satisfied with the performance of the missile."

The North Korean launch was "the first step of the military operation of the (North Korean military) in the Pacific and a meaningful prelude to containing Guam," state media said.
On Wednesday, the U.S. conducted an allegedly pre-planned test intercept of a ballistic missile off of the coast of Hawaii. The government in Guam said the island's threat level remains unchanged since the joint military exercises were expected to lead to a reaction from North Korea.
South Korean President Moon Jae-in and Japanese Prime Minister Shinzo Abe are now both calling for stronger sanctions against North Korea in order to draw Pyongyang to the negotiating table.
After President Trump offered North Korea "fire and fury" after an earlier test, he was more measured in his response to Tuesday's test saying the North Korea was destabilizing the region before adding that "all options are on the table." And this morning, he tweeted that "talking is not the answer."
(Via CNN)