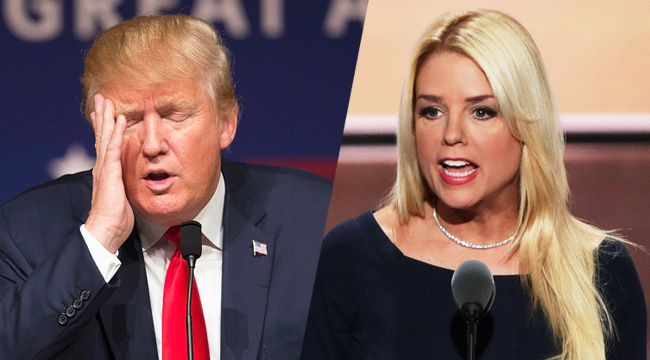 Today's Trump-scandal buzz will revolve around the Trump Organization's potential effects on national security, which could be a massive "disaster," to borrow one of Trump's favorite words. However, the Trump Foundation still sits not-so-pretty in the background with Tuesday's news that the House Democrats were calling for an investigation into the nebulous charitable endeavor. We've already heard that Trump isn't exactly opening his pocketbook lately for the foundation, and he even pulled $20,000 from its funds to purchase a massive oil painting of himself. And the House Democrats aren't the only ones scratching their heads over this sketchiness.
The New York attorney general has officially taken more than an interest in the Trump Foundation's maneuvers. In fact, the office has opened a probe. This probably has much to do with the Republican nominee quietly paying an IRS fine after violating a tax law by donating $25,000 to Attorney General Pam Bondi's 2013 reelection campaign. He did so after she dropped a fraud probe into Trump University and then threw her a lavish fundraiser at his Mar-a-Lago estate in Palm Beach. Much of this fits into Trump's self-admitted habit of "buying" political influence and bragging about how money makes politicians "do whatever the hell you want them to do." Somehow, Bondi blamed Hillary Clinton for the whole mess.
Well, New York Attorney General Eric Schneiderman is looking into things, which likely has something to do with Bondi's Florida AG office dropping out of their joint investigation (with New York) of Trump University. Schneiderman seems to indicate that the whole Trump Foundation is under scrutiny:
"My interest in this issue really is in my capacity as regulator of nonprofits in New York state. And we have been concerned that the Trump Foundation may have engaged in some impropriety from that point of view. We have been looking into the Trump Foundation to make sure it's complying with the laws that govern charities in New York."
As Trump himself would say, "Sad." The donation to Bondi was apparently (according to the Washington Post) performed as one of several phantom donations by the Trump Foundation, and the floodgates are now open for a fine-toothed comb to dig into the organization's practices. Slate Magazine recently called the charity endeavor "a front" to make Trump look like a generous guy, and Schneiderman seems certain he'll find evidence of impropriety. His office previously brought fraud allegations against the now defunct Trump University for an estimated $40 million in damages.
(Via Reuters)