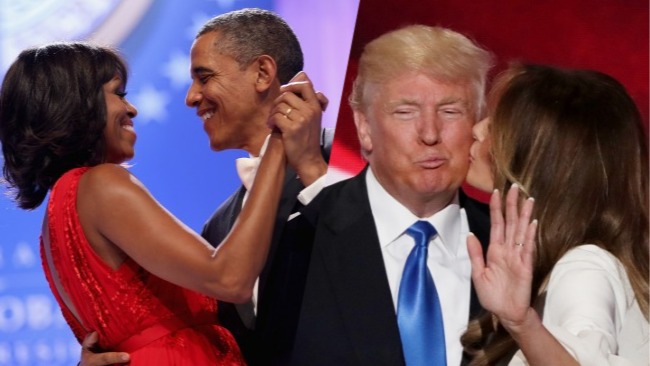 Per an invitation from President Barack Obama, President-elect Donald Trump visited the White House on Thursday for a first meeting between the two since Tuesday's election. Their meeting, which follows Obama's public congratulations for the the Republican nominee on Wednesday, falls within a tradition that's almost as old as the office itself. (As does the meeting of several key Obama administration members with Trump campaign staffers and potential cabinet picks.) However, according to a report in the Wall Street Journal, another one of these White House traditions — a photo-op of the current and future First Couples — won't be happening today.
Per the Wall Street Journal, "the Obamas canceled a photo-op of the current and future first couples outside the south entrance of the White House." No reason was provided as to why this is the case, which is worrisome since the photo-op was something Barack and Michelle both participated in the matter back in 2008 with the Bush family:
In his first visit to the White House after the 2008 election, Mr. Obama and first lady Michelle Obama posed for the cameras alongside President George W. Bush and first lady Laura Bush. The decision not to participate in this tradition illustrates how bitter the campaign was, particularly for Mrs. Obama who delivered some of the most emotional arguments against electing Mr. Trump.
Unfortunately, since no reason was given for the photo-op's cancellation, we may never know exactly why the Obamas and the Trumps didn't take a photo together on Thursday. However, it's hard not imagine that Obama's decision not to pose with the Trumps may have something to do with what the president called the "pretty significant differences" between himself and the Republican nominee. Obama even joked about not preparing for this very meeting during his Real Time interview with Bill Maher. The years Trump spent fanning the flames of "birtherism," which many viewed as a racist attempt to delegitimize Obama's presidency, probably didn't help. And Michelle Obama doesn't appear to be very fond of Donald or Melania either.
(Via Wall Street Journal)