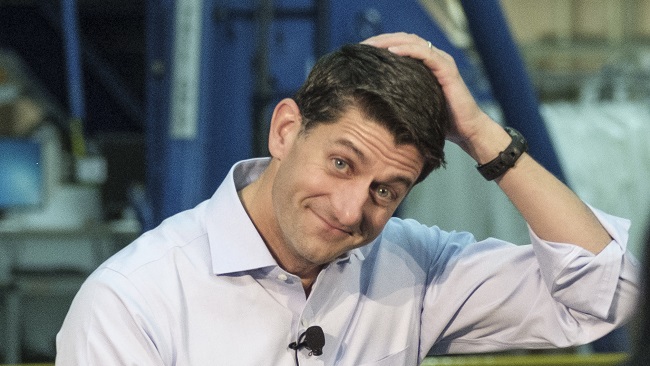 A day after several reports indicated Donald Trump's administration would "phase out" the Deferred Action for Childhood Arrivals (DACA), which protects "Dreamers" from deportation, House Speaker Paul Ryan has come out against the president's plans. According to CNN, the Wisconsin Republican was asked about the matter during a radio interview with WCLO in Janesville, Wisconsin Friday morning. In response, Ryan asked Trump not to scrap the program wholesale — though not because he necessarily approves of the legislation established during President Barack Obama's tenure.
"I actually don't think he should do that," Ryan said of reports indicating Trump would totally wipe out DACA in a single moment. "I believe that this is something that Congress has to fix." In explaining his stance, which differs from what Trump and many other hardcore anti-illegal immigration Republicans often espouse, the speaker said "President Obama does not have the authority to do what he did," a point he and his colleagues have made "very clear." However, Ryan doesn't think excising the legislation in one sitting is the right (or legal) avenue to pursue.
"Having said all of that, there are people who are in limbo," Ryan explained during the WCLO radio interview. "These are kids who know no other country, who were brought here by their parents and don't know another home. And so I really do believe there that there needs to be a legislative solution." The Department of Homeland Security had previously announced Dreamers' protections via DACA would remain in place earlier this summer. Thursday's report regarding Trump's change of heart, however, countered this announcement.

UPDATE #1: Per the White House pool report, Trump was asked about his decision regarding DACA and when — if soon — he would act on it. "We'll issue it sometime over the weekend, maybe this afternoon," he told reporters. "We love the DREAMERs."
UPDATE #2: During the White House Press Briefing on Friday, Press Secretary Sarah Huckabee Sanders told reporters Trump will announce his decision regarding DACA on Tuesday, September 5th. "The president's priorities on immigration are to create a system that encourages legal immigration and benefits our economy and American workers," she said. "He loves people."
Press Sec.: POTUS will have decision on DACA on Tuesday. "He loves people and he wants to make sure that this decision is done correctly." pic.twitter.com/6AaXvVv81W

— ABC News (@ABC) September 1, 2017
(Via CNN)