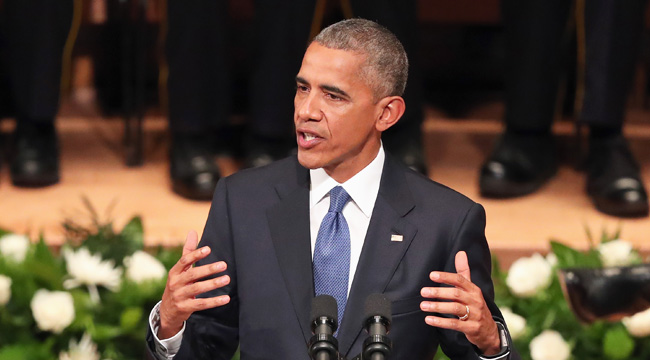 At a Wednesday memorial service, President Barack Obama addressed a city and a country that's still reeling over the Dallas police shootings. Obama said the country has every right to have strong feelings about the event, but he rejected the notion we should continue to live in a state of distress:
"We turn on the TV or surf the internet and we can watch positions harden and lines drawn and people retreat to their respective corners. Politicians calculate how to grab attention or avoid the fallout. We see all this and it's hard not to think sometimes that the center won't hold. And that things might get worse. I understand. I understand how Americans are feeling. But, Dallas, I'm here to say we must reject such despair."
The president went on to praise the Dallas police department for their work and related his admiration seeing both officers and protesters coming together to grieve. He reiterated that this event should not tear apart the country, but bring it together:
"I'm here to insist that we are not as divided as we seem. And I know that because I know America. I know how far we've come against impossible odds. I know we'll make it because of what I've experienced in my own life. What I've seen of this country and its people, their goodness and decency as president of the United States."
Also on hand was former president George W. Bush, who echoed Obama's statement on unity:
"This is the bridge across our nation's deepest divisions. And it is not merely a matter of tolerance. But of learning from the struggles and stories of our fellow citizens and finding our better selves in the process. At our best we know we have one country, one future, one destiny. We do not want the unity of grief, nor do we want the unity of fear. We want the unity of hope, affection, and high purpose."
The presidents were also joined by first lady Michelle Obama, Vice President Joe Biden, Jill Biden, and former first lady Laura Bush. This is the 11th time president Obama has visited a community affected by a mass shooting. The president is also expected to visit with the families of the departed police officers and those that were injured.
Here's a brief video clip that shows part of Obama's speech.