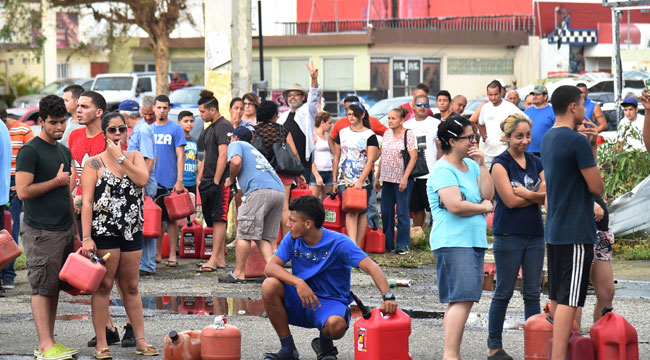 The U.S. territory of Puerto Rico — which has already been struggling through a recession for over a decade — was decimated by Hurricane Maria as a Category 4 storm. Tons of incredible video footage showed the destruction taking place, and in the aftermath, intense flooding was further exacerbated by dam failure on Friday. The storm also knocked out 100% of the island's electricity, and experts still aren't sure when it will be restored, although it's understood that it will take several months to do so.
Meanwhile, the island's residents are running out of gas to run generators, which quickly resulted in long lines. Even worse, food and clean water supplies are dwindling, which could make the worst disaster in the island's history even more deadly than the current toll of 10. Heartbreaking stories of desperation are already surfacing, and the situation won't ease anytime soon without help. Governor Ricardo Rossello is now reaching out to the press to bring attention to this crisis and what he feels is a failure of the U.S. federal government to assist one of its territories. He spoke with Politico to call upon the Pentagon and Congress to send relief, fast:
"We need more resources from the Department of Defense so we can get helicopters and resources. We know that there are capabilities in the surrounding areas, helicopters, planes and so forth. And our petition is for us to be able to use them … Whatever relief package we have, whatever impact we have, we are U.S. citizens. We shouldn't be the lesser for it."
To complicate matters, FEMA's funding coffers will soon run dry and won't be replenished until mid-October. The agency's current funding will be almost entirely swallowed up by ongoing Harvey and Irma recovery efforts in Houston and Florida, respectively. Rossello told the Washington Post that his island shall not be forgotten:
"We still need some more help. This is clearly a critical disaster in Puerto Rico. It can't be minimized and we can't start overlooking us now that the storm passed, because the danger lurks."
Rossello also asked Congress to realize that Puerto Rico's current plight is much like what Hurricanes Katrina and Sandy wrought years ago on the U.S. mainland. Not only does the governor worry about the immediate safety of his residents in the coming months, but he wonders whether Puerto Rico will ever feel "normalcy" again. That's more than a fair question, especially while almost everyone in the U.S. — including President Trump — remains almost completely focused upon arguing about the #TakeAKnee protests.
Is an illustration warranted? CNN's David Wright tweeted one…
(Via Politico, Washington Post & NBC News)