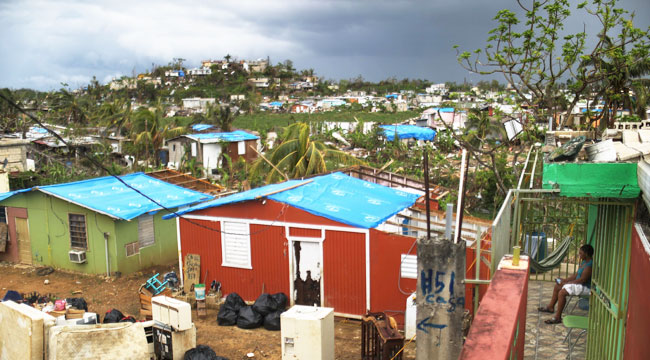 Puerto Rico can't catch a break when it comes to fully restoring power almost six months after Hurricane Maria. Only a day after the Puerto Rico Electric Power Authority (PREPA) announced that the U.S. territory's electricity had finally been restored to 75% capacity, the island has suffered (another) dramatic setback. A Sunday night explosion at a power substation plunged much of the island, including the capital of San Juan, back into darkness. This NotiUno 630 video shows the aftermath of what CNN reports as a mechanical failure.
VIDEO: @Bomberos_de_PR logran controlar incendio en subestación @AEEONLINE Monacillos en Río Piedras. https://t.co/uWih2e8Yvv pic.twitter.com/qyVcmO8d0l

— NotiUno 630 (@NotiUno) February 12, 2018
San Juan Mayor Carmen Yulin Cruz tweeted that the flames were quickly extinguished, and no injuries were reported.
The blackout not only hit San Juan but other parts of Northern Puerto Rico including Trujillo Alto, Guaynabo, and Caguas. PREPA hopes to restore power to all of the affected areas by Monday evening, but this is only the latest setback in restoring the island to full capacity. Last week, it was reported that some towns are taking matters into their own hands and rebuilding their own grids due to sheer desperation over the slow-moving process.
That frustration stems not only from months (including the holiday season) without power but also a botched $300 million government contract with Whitefish Energy, which was ill-equipped to take on the task. The controversy over that deal stems from the company's connections to the Trump administration and is now the subject of an FBI investigation, all while repair work done by Whitefish has already failed in some sections of the U.S. territory.