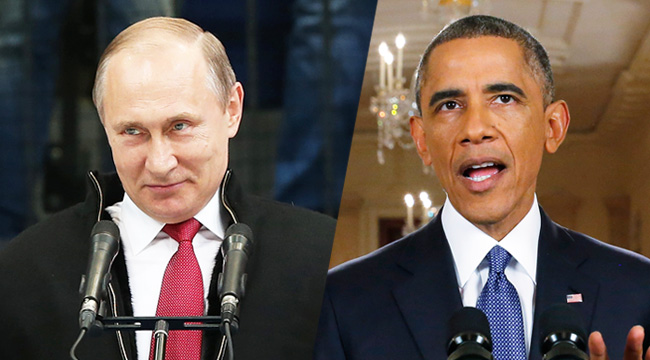 On Thursday, President Obama imposed sanctions against Russia (as expected) for interference in the election. Obama also expelled 35 Russian intelligence operatives from the United States. The booted diplomats included four top officers believed to have been instrumental in the hacking, which U.S. intelligence officers have said was orchestrated by Vladimir Putin.
The ball sits in Trump's gold-plated court, come January 20, but Vladimir Putin has expressed disappointment in a statement posted on the Kremlin's website. Putin says Russia will not "stoop to the level" of Obama and expel Americans from Russia. Parts of the text may be lost in translation, but some are interpreting this finger-wagging approach as a sign that Putin expects Trump to lift the sanctions rather than uphold them. In the statement, Putin states that he has every right to echo Obama's actions and is "reserving the right to retaliate" but won't go there right now:
"Reserving the right to retaliate, we will not stoop to the level of 'kitchen' irresponsible diplomacy and further steps towards the restoration of Russian-American relations will be build on the basis of the policy, which will carry out the administration of President D.Trampa.

"Russian diplomats will spend the New Year holidays in the circle of relatives and friends — at home. We will not create problems for American diplomats. We will not send anyone. We will not prohibit their families and children to use for their usual vacation spots in the New Year's holidays. Moreover, all children of American diplomats accredited in Russia, I invite you to New Year's and Christmas tree in the Kremlin."
Putin then said "it is a pity" that the Obama administration "completes its work this way," but he (once again) congratulates Trump on his victory. It must also be noted that despite Putin's public refusal to expel U.S. diplomats, Russian authorities swiftly ordered the shuttering of a school for children of U.S., British, and Canadian embassy employees after Thursday's news.
The U.S. sanctions on Russia follow the CIA and the FBI's consensus that the foreign power hacked to get Donald Trump elected, despite Trump's continued disbelief that this could happen. Whether he's playing dumb or not — he recently appeared to not understand how computers work while Don King merrily waved flags — is anyone's guess. However, Trump's response to the sanctions (he wanted everyone to forget about the hacking and Make America Great Again) is a telling one.
(Via Kremlin.ru)