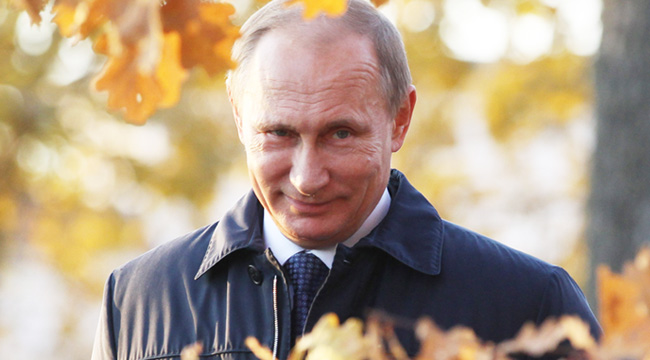 The investigation (by both the FBI and Congress) into Russia-Trump ties continues to grow even while breaking stories like Bill O'Reilly's ousting and all of the fallout dominate a given day. Yet Russia's always there, lurking and waiting, and now Reuters has dropped a rather significant story about a Russian state-controlled think tank that — guess what — hatched a plan to influence the U.S. election so Donald Trump would win.
News of this plan brings back memories of Paul Manafort's decade-old gig working for a Russian billionaire oligarch who paid him $10 million per year to help influence U.S. news and political coverage to "advance the interests" of Putin. However, the details presented by Reuters on the think tank's plan are especially unsettling in terms of what actually happened during the U.S. election. A first document simply suggested that the Kremlin would pass around Internet-based propaganda that favored Trump, but the second document recommended that strong signals should be sent about "voter fraud" in order to shake U.S. faith in the electoral system:
[The first document] recommended the Kremlin launch a propaganda campaign on social media and Russian state-backed global news outlets to encourage U.S. voters to elect a president who would take a softer line toward Russia than the administration of then-President Barack Obama, the seven officials said.

A second institute document, drafted in October and distributed in the same way, warned that Democratic presidential candidate Hillary Clinton was likely to win the election. For that reason, it argued, it was better for Russia to end its pro-Trump propaganda and instead intensify its messaging about voter fraud to undermine the U.S. electoral system's legitimacy and damage Clinton's reputation in an effort to undermine her presidency, the seven officials said.
For months prior to Election Day, Trump rambled about voter fraud — perhaps he was hearing this from (allegedly) colluding associates, or maybe he was reading about it on Sputnik? — when he started to worry about losing the election. And even after he won, he continued to insist that millions of people illegally voted because he was embarrassed over losing the popular vote. However, Trump finally declared the election to be "over" last weekend in this tweet. (Good to know, right?)
All of this is a little spooky, especially given what U.S. intelligence now knows about former Trump campaign advisor Carter Page accepting oil money in exchange for a promise to remove U.S. sanctions on Russia. This would, of course, benefit Putin, who wanted a president who was not only friendly toward Russia but whose associates were easy to manipulate. And of course, Putin was also motivated by his grudge against Hillary Clinton. Two birds, one stone, yadda yadda.
(Via Reuters)