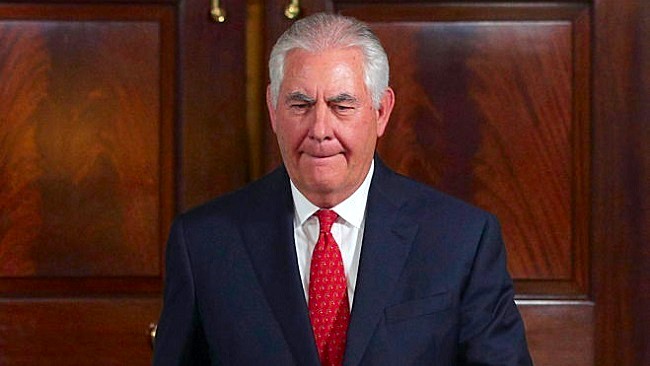 While Rex Tillerson defended his management of the exodus-riddled State Department in a speech at the Wilson Center think tank, North Korea was testing ballistic missiles half a world away and Hawaii was prepping a system of warning sirens not used since the Cold War. Just yesterday, one of the Department's senior counselors, Maliz Beams, resigned, joining a long line of diplomats and high-level foreign policy officials who have streamed out of the Trump administration's State Department. Yet Tillerson was optimistic, assuring attendees that the reason the State Department's budget has been slashed is because the Trump administration anticipates the end of numerous costly foreign policy dilemmas.
"Part of this bringing the budget numbers back down is reflective of an expectation that we're going to have success in some of these conflict areas, getting these conflicts resolved and moving to a different place in terms of the kind of support we have to give," Tillerson said. Yet it seems that everywhere there's a fire to put out — such as the ongoing strife in Afghanistan that will has merited a fresh influx of troops, crashing naval ships in the Pacific, the annexation of the Ukraine and Russian aggression, and uncertainty about how to navigate relations with Asian allies. Not to mention Pyongyang's latest missile tests. It's enough to sound like Tillerson's own personal rendition of Billy Joel's "We Didn't Start the Fire."
Noted Trump critic Bob Corker countered Tillerson's confidence, noting that while the Secretary of State might foresee a number of resolutions on the horizon, Tillerson's team isn't "anywhere close to having a plan to present relative to the reforms that they want to make there." And now Tillerson is short not only of a plan, but also the very person he put in place to help him restructure the State Department. That doesn't bode well for Tillerson's efficacy, no matter how "offended" he is by criticism to the contrary.
(Via: the Guardian, Bloomberg)