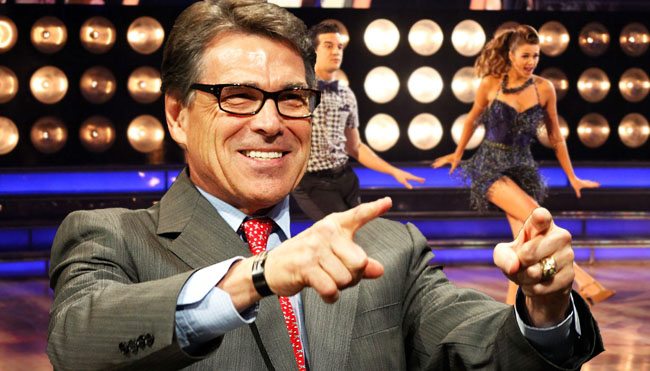 After two failed presidential runs, it actually makes a lot of sense that Rick Perry would turn his ship toward the waters of reality television. The former Texas governor is reported to be joining Dancing With The Stars for its 23rd season, making him the latest politician to try to show off his moves on the dance floor. ABC hasn't officially announced the cast for the next season yet — they are saving that for Tuesday's Good Morning America — but the rumored names alongside Perry could make this the first season an outsider might want to see, according to the Dallas Morning News:
Perry will join the season 23 cast, along with fellow Texan Vanilla Ice, retired football player Calvin Johnson, Indy race car driver James Hinchcliffe and Olympians Laurie Hernandez and Ryan Lochte.
As the Dallas Morning News reports, Perry is not the first Texas politician to appear on the competition show. He is the first to have run for president twice, only to fail to reach the White House each time. Back in 2009, former U.S. House Majority Leader Tom DeLay appeared on the show after scandal and looming criminal charges pushed him out of his congressional position. "The Hammer" danced to "Wild Thing" in his first performance, losing out soon after thanks to low scores with the judges and stress fractures in his feet. He was also convicted to three years of prison soon after, acquitted upon appeal, and then finally free of all charges by 2014.
No such controversy surrounds Perry ahead of his appearance on the show, but one does wonder if he will be with or without his smart-guy glasses.
(Via Dallas Morning News / Entertainment Tonight / The Hill)