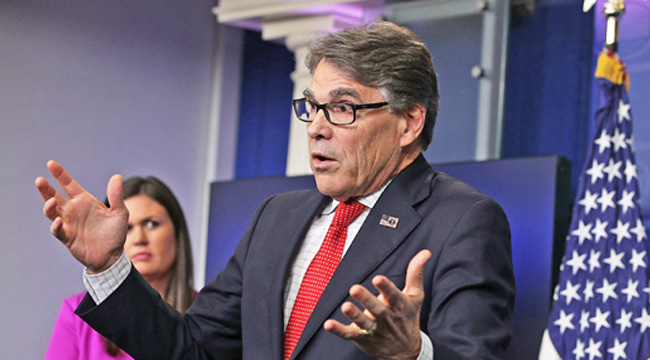 Following Tom Price's resignation as Health Secretary for spending hundreds of thousands of dollars on private air travel in a matter of months, several other Cabinet members, including Interior Secretary Ryan Zinke and the EPA's Scott Pruitt, have come under scrutiny for their own questionable uses of private planes. Add Energy Secretary Rick Perry to that list.
According to Reuters, a day before Tom Price's resignation, Perry took a chartered flight to Ohio. The Department of Energy says Perry was traveling to visit a uranium enrichment plant in a small town east of Cincinnati:
The only private jet to land at Greater Portsmouth Regional Airport last Thursday belonged to Dixie Capital Corp, a Richmond, Virginia-based charter company, according to data from the Flightaware website. Dixie confirmed it owned the plane, but declined to comment on Perry or say how much the trip cost.
Perry visited the decommissioned uranium plant with Ohio Senator Rob Portman and two members of Congress. The local government has been lobbying to reopen the plant.
No commercial airlines operate out of the airport Perry flew out of in Pennsylvania, but nearby airports in Scanton and Allentown do. Perry's private jet visit happened after he toured a coal mine in Pennsylvania.
(Via Reuters)