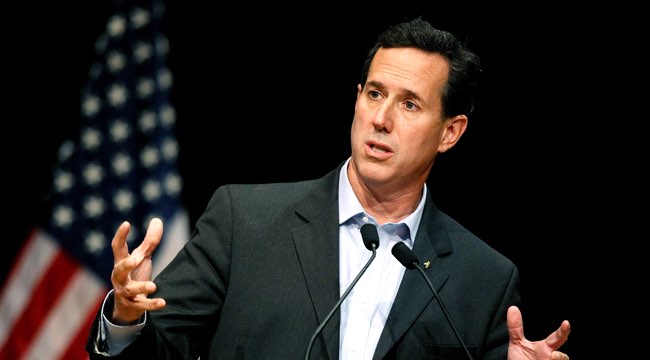 Rick Santorum can't boast poll numbers anywhere close to Donald Trump, but Santorum does have one bragging right. Trump may be the most vocal leader of anti-Muslim rhetoric, but Santorum's ultra religious ways frame him as a greater enemy to ISIS. Trump's fine with tossing out the occasional bible verse and (for now) identifies as Presbyterian, but Santorum's devout Catholicism stands at the forefront of his campaign.
Santorum has an axe to grind, too. During the most recent Democratic debate, Hillary Clinton claimed ISIS featured Trump in its recruitment materials. Clinton stands by this claim (although no videos have surfaced). However, Santorum says he has proof that he's the greater threat to ISIS. In a recent interview with Breitbart Radio, Santorum marked his territory:
"The only person that's been listed in ISIS magazine as an enemy of ISIS is me. And you know why they listed me? If you go back and read the article that was in the April edition of ISIS magazine online, it wasn't because I was criticizing or taking on the Muslim religion, or I was pontificating on what we need to do to make Muslims like us. The reason I was identified as an enemy was because I identified who they are.
Santorum speaks of a recent issue of Dabiq, the propaganda magazine meant for Western recruitment. Indeed, this claim is true. Buzzfeed has obtained a screenshot of the article where Dabiq describes Santorum as "the Catholic crusader" and enemy of "the radical Muslim world." In this Soundcloud clip, Santorum can be heard waxing rhapsodic on the subject. Your move, Trump.
(Via The New Republic & Buzzfeed)