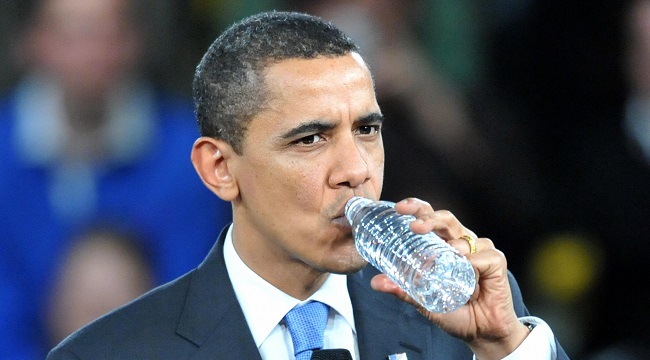 When President Barack Obama visits the town of Flint, Michigan on Wednesday, Governor Rick Snyder hopes he will drink the beleaguered city's tap water. Why? Because ever since the Flint water crisis made national headlines, the community has refused to use filters provided by the Environmental Protection Agency that officials promise will render the city's drinking water safe for consumption. Which isn't surprising, because several local and state officials affiliated with the agency and other governmental bodies have been charged in the matter.
In a statement made by Snyder spokesperson Anna Heaton to the Huffington Post, the Republican governor hopes the president will lend public credence to his office's efforts to regain the public's trust:
"We are hopeful the president will drink the water in Flint, to help reinforce Gov. Snyder's actions and the EPA's message that filtered Flint water is safe to drink."
Despite evidence of Snyder's foreknowledge of the coming water crisis and public criticism of his administration's alleged inaction, Snyder has been trying to convince Flint residents that EPA-approved filters actually work. He even drank straight from one person's tap in Flint, and vowed to do so for 30 days in what critics labeled as nothing more than a publicity stunt.
Whether or not Obama will lend his image to Snyder's efforts remains unlikely, as White House Press Secretary Josh Earnest told reporters on Monday that he wasn't "aware of any photo ops that involve the president's consumption of the water." He did, however, suggest that the people of Flint "listen to the advice that they get from our scientific and public health experts about what water is safe to drink."
If the Flint water Snyder offers to Obama happens to be in the shape of a beer, then perhaps the president will accept the governor's invitation.
(Via Huffington Post)