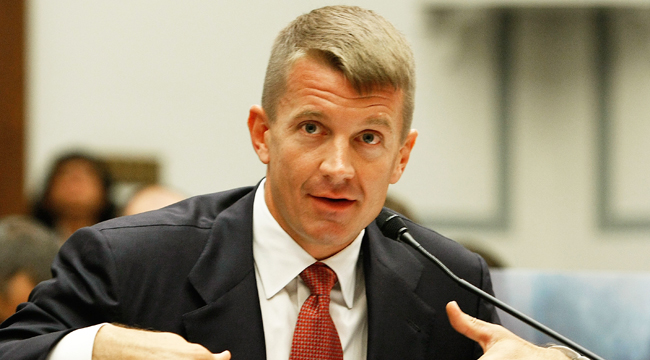 In April 2017, the Washington Post first reported that Blackwater founder Erik Prince tried to maneuver for secret line of communication between Trump and Russia. He apparently did so (although he wasn't an official Trump transition team member) in January 2017 by meeting with a Putin ally in the Seychelles islands while acting as an "unofficial envoy."
When the report surfaced, Sean Spicer issued an obligatory denial, but now, Special Counsel Robert Mueller's team has reportedly gathered evidence to establish that this meeting happened. The Washington Post reports that a Russia probe witness, George Nader, attended the meeting between Prince and a top Kremlin official. Nader has begun to cooperate with Mueller and says that the original explanation for the meeting — that it was a "chance encounter" — was simply a flimsy excuse:
A witness cooperating with Mueller has told investigators the meeting was set up in advance so that a representative of the Trump transition could meet with an emissary from Moscow to discuss future relations between the countries, according to the people familiar with the matter, who spoke on the condition of anonymity to discuss sensitive matters.

George Nader, a Lebanese American businessman who helped organize and attended the Seychelles meeting, has testified on the matter before a grand jury gathering evidence about discussions between the Trump transition team and emissaries of the Kremlin, as part of Mueller's investigation into Russian efforts to interfere with the 2016 election.
All along, Prince has maintained that he happened to meet with this Putin ally because he was already at the same hotel on private business (while meeting with United Arab Emerates officials). He and Nadar have significant ties, and the latter also attended a different meeting between Trump advisors and the Abu Dhabi crown prince during the transition. Nadar was viewed as valuable to the Trump transition team due to his Middle East political connections, but now, he's clearly cooperating with the Mueller probe.
In related Russia news (because there's always more), the New York Times is reporting that Trump is feeling-out witnesses after they meet with Mueller's investigators. The Times says that not only did the president grill Reince Preibus over whether the Mueller's team was "nice," but he also asked White House counsel Don McGahn to fire Mueller and release an official statement to deny a story printed in the Times. All of this, together, only adds to the whiff of obstruction of justice that chronically circles POTUS' actions.
(Via Washington Post & New York Times)