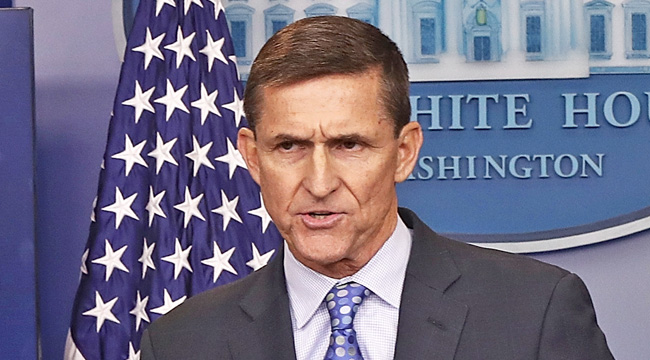 Would you be surprised to learn that Michael Flynn earned approximately $65,000 by delivering speeches in Russia while he had top-security clearance? It seems like a natural progression for anyone who's paid attention to the swift downfall of the former Trump national security advisor. Flynn only spent a few short weeks in his latest job after lying to the FBI and VP Mike Pence about his conversations with the Russian ambassador. Amid many other controversial developments, Flynn was soon exposed for lobbying for Turkey during the presidential election, and he retroactively registered as a foreign agent as if that would change everything.
Now, the New York Times has detailed Flynn's payments for these speeches, which he made to RT (essentially the Russian government's propaganda channel), a cybersecurity firm holding ties to Russian intelligence, and Volga-Dnepr Airlines, which provides charter airline service in Russia. The biggest paycheck came from RT, which handed over $45,000, and during that evening, he also dined next to Vladimir Putin. That last tidbit was already known, and the Wall Street Journal makes special mention of how Flynn still retained his top-secret level security clearance at the time, which was after he was terminated from his position as Defense Intelligence Agency head.
All of this new information, ultimately, is part of the House Intelligence Committee's investigation into Russia's attempts to influence the election. Business Insider sums up what's really unsettling here, which is that Flynn was asked to speak about the White House's interplay with U.S. intelligence:
The oversight committee had previously called on the Defense Department to investigate whether Flynn had run afoul of the US Constitution by being paid to speak at the RT gala. The lawmakers pointed to a report released in January by the US intelligence community concluding that Russia Today, as part of Russia's "state-run propaganda machine," served as "a platform for Kremlin messaging to Russian and international audiences."

Emailed correspondences between RT employees and Leading Authorities reveal that RT wanted Gen. Flynn to talk about the "decision-making process in the White House — and the role of the intelligence community in it" with regard to US policy in the Middle East over the last decade.
Flynn previously dragged his feet over disclosing his fees for these speaking engagements, sort of like he waited to reveal details on his conversations with the Russian ambassador, and all of that leaked anyway. However, the subject matter of the RT gala with Putin is pretty "out there," and in retrospect, it looks like Trump should have done a lot more vetting before making cabinet hires.
(Via New York Times, Wall Street Journal, Washington Post, & Business Insider)